While lots of couples host destinations weddings in Tampa Bay, where can local couples travel for their weddings? Jamaica!
If you're honeymoon planning, you've probably come across Sandals Resorts, but what you may not have realized is that they also host destinations weddings (and they do it really, really well!)
I was lucky enough to spend the week at three Sandals Jamaica properties to learn about their new Aisle to Isle destination wedding experience, which launched in December 2017, with my fellow Aisle Society editors.
Forget the the cookie cutter Caribbean weddings you may be picturing from 10 years ago, Aisle to Isle was created to give couples modern wedding inspiration with all new décor inspirations, enhanced options for food and beverage and new ceremony and reception venues.
Sandals Montego Bay Overwater Bungalows
Staying in an overwater bungalow is on the bucket list for almost any engaged couple, and what was once only available on the other side of the world, is now available at Sandals Montego Bay.
This was the first stop on our weeklong Jamaica wedding experience, and it set the tone of the trip. Breathtaking doesn't event begin to describe how incredible our experience. A private boat, takes you on the quick 5-10 minute ride from the main resort to the heart-shaped overwater bungalows.
The villas feature floating water hammocks, an infinity pool, butler service and the most incredible views. Two of my favorite features included the glass bottom floors and private outdoor soaking tub, setting a romantic and relaxing atmosphere.
The decor was modern and tasteful and very luxurious. We only spent an afternoon in these slices of heaven, but between the butler service, carefree atmosphere, we were truly pampered and relaxed.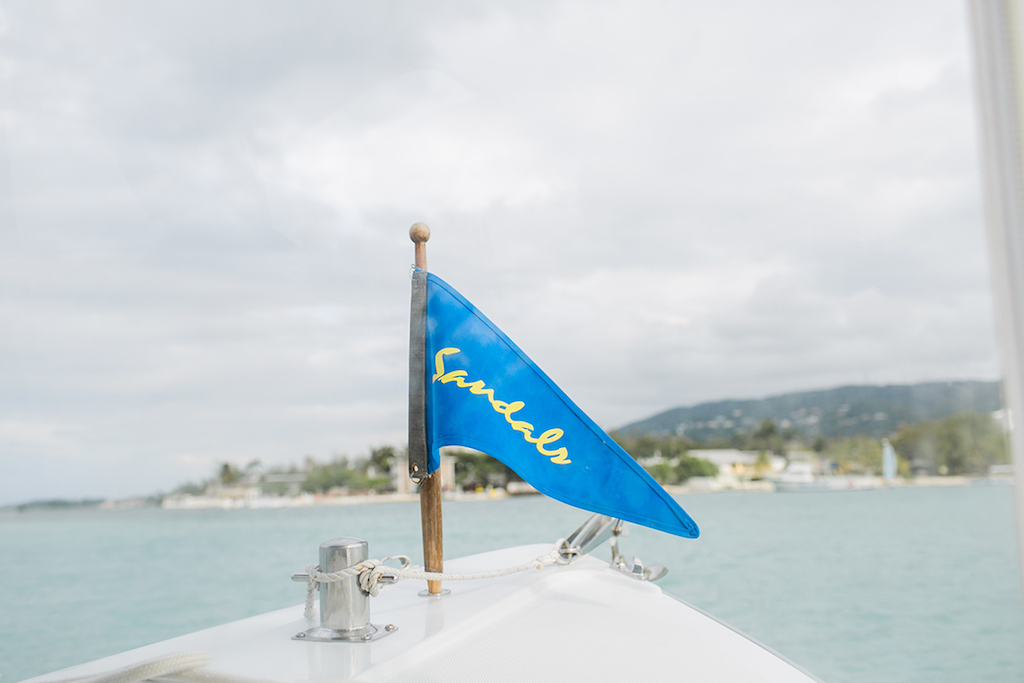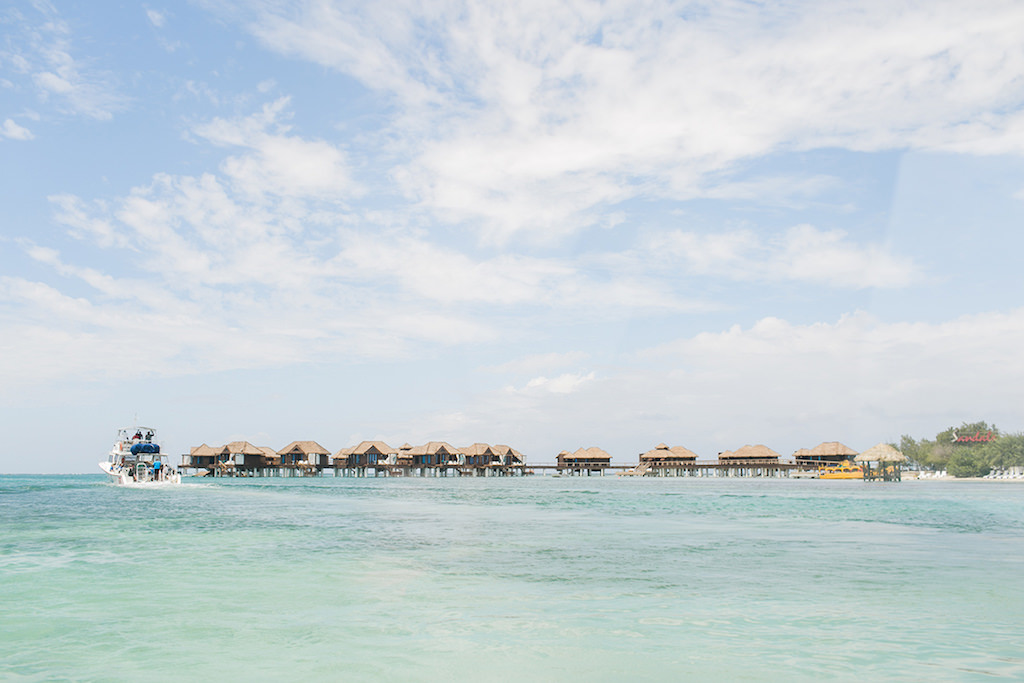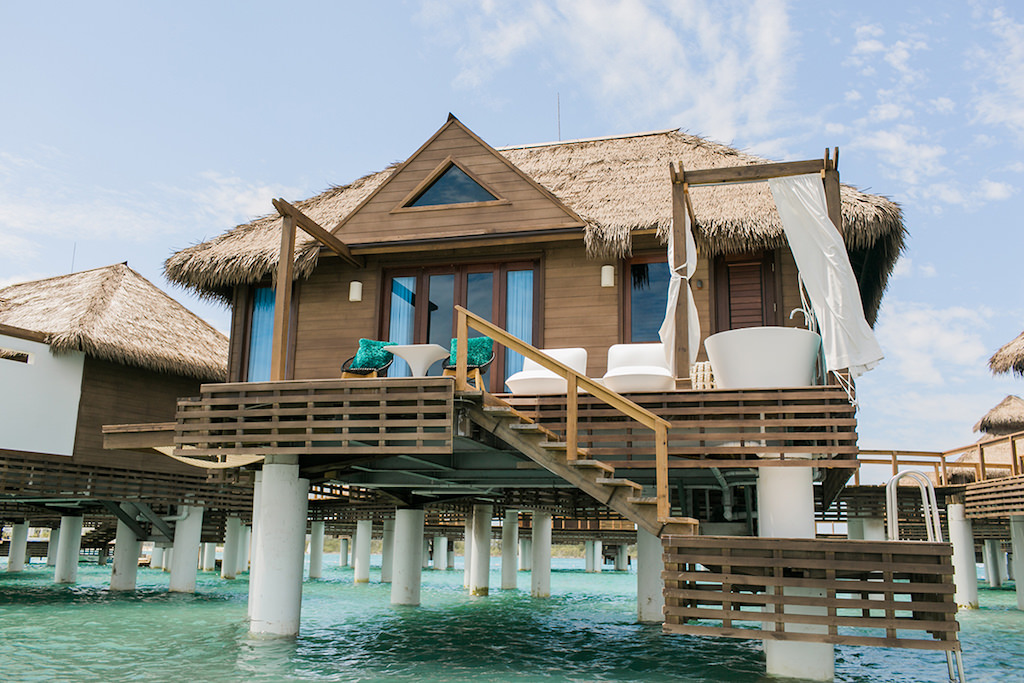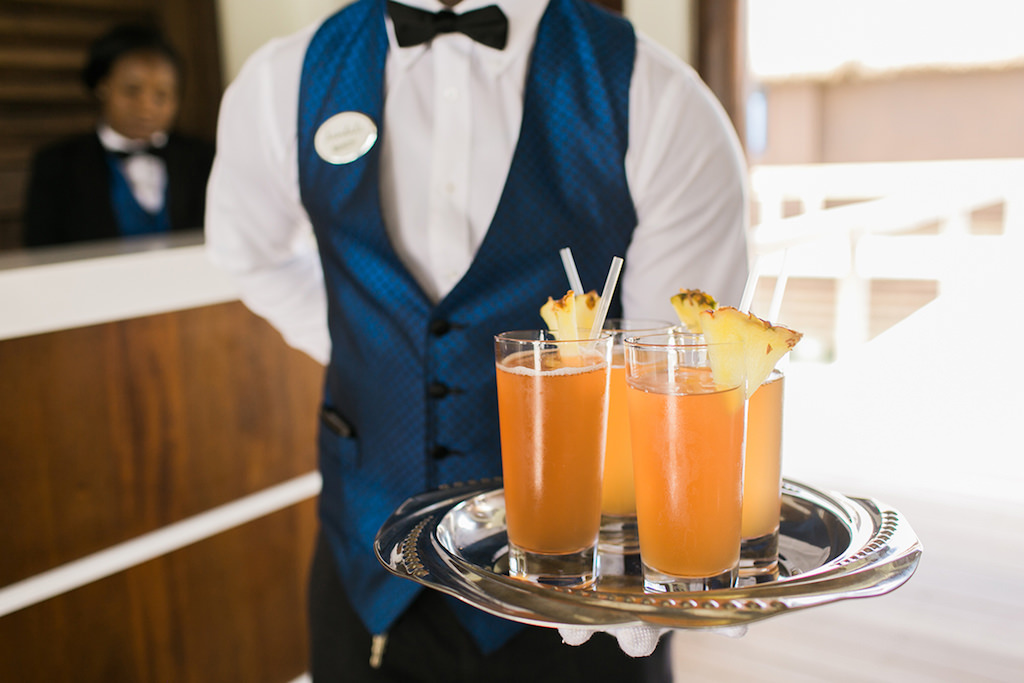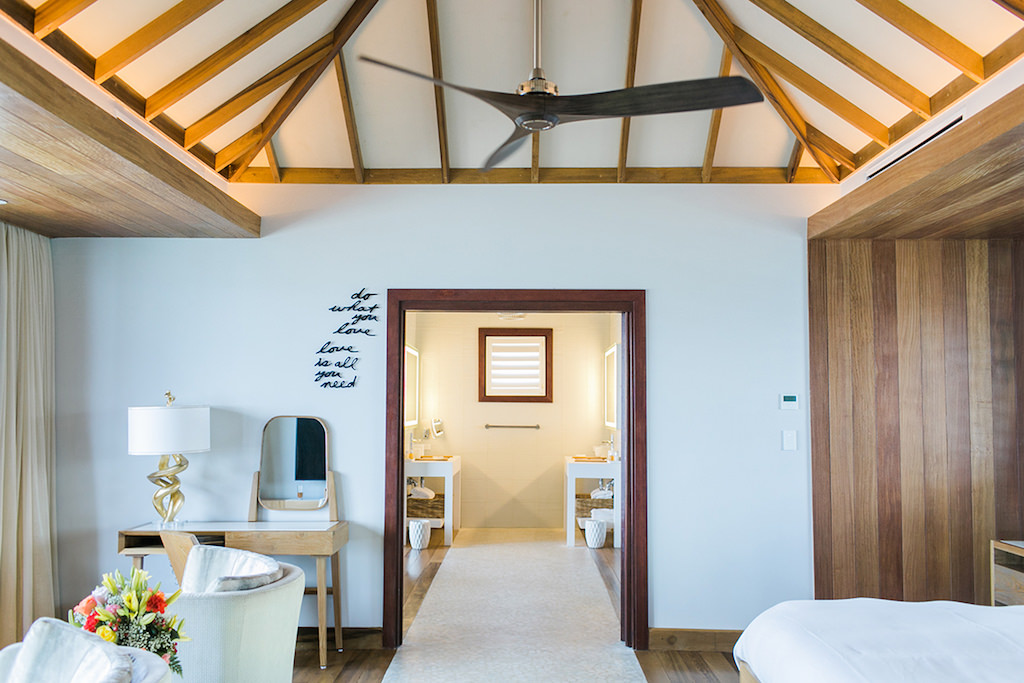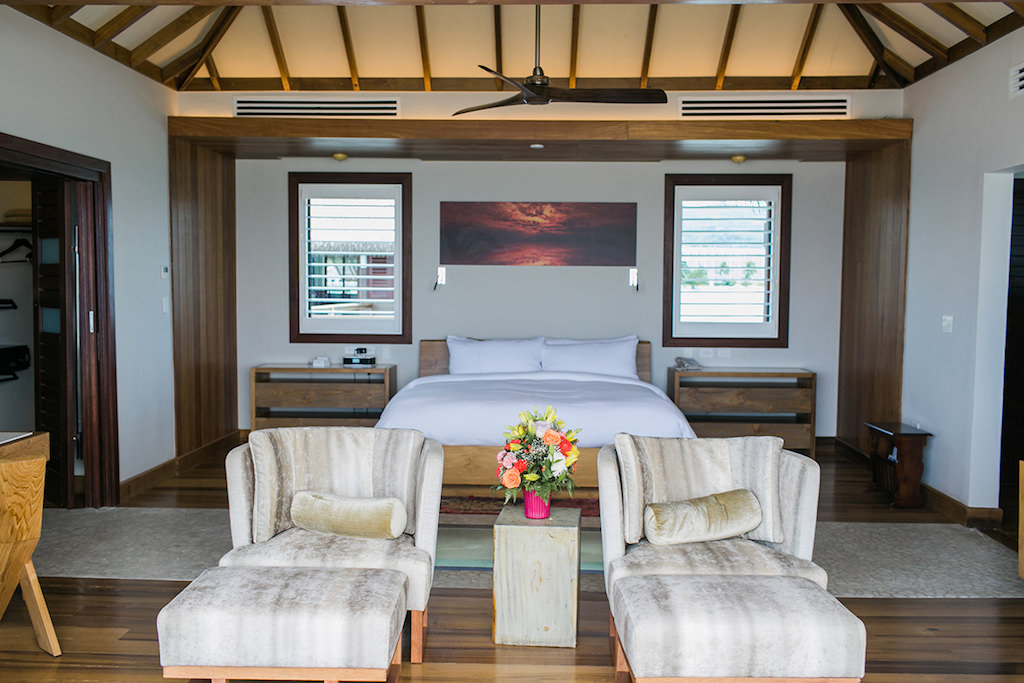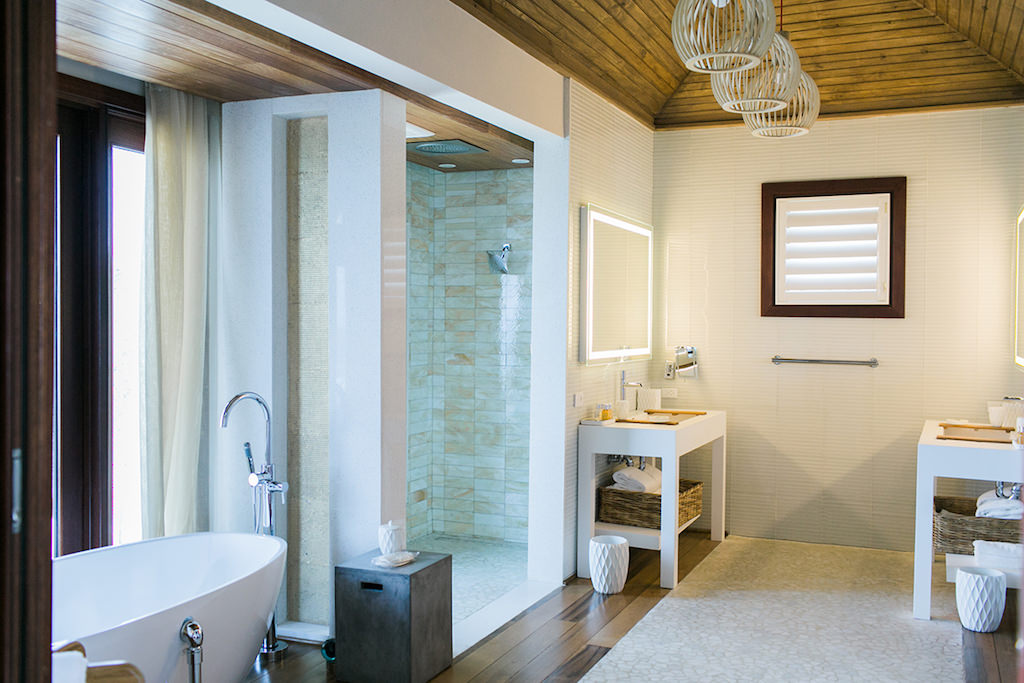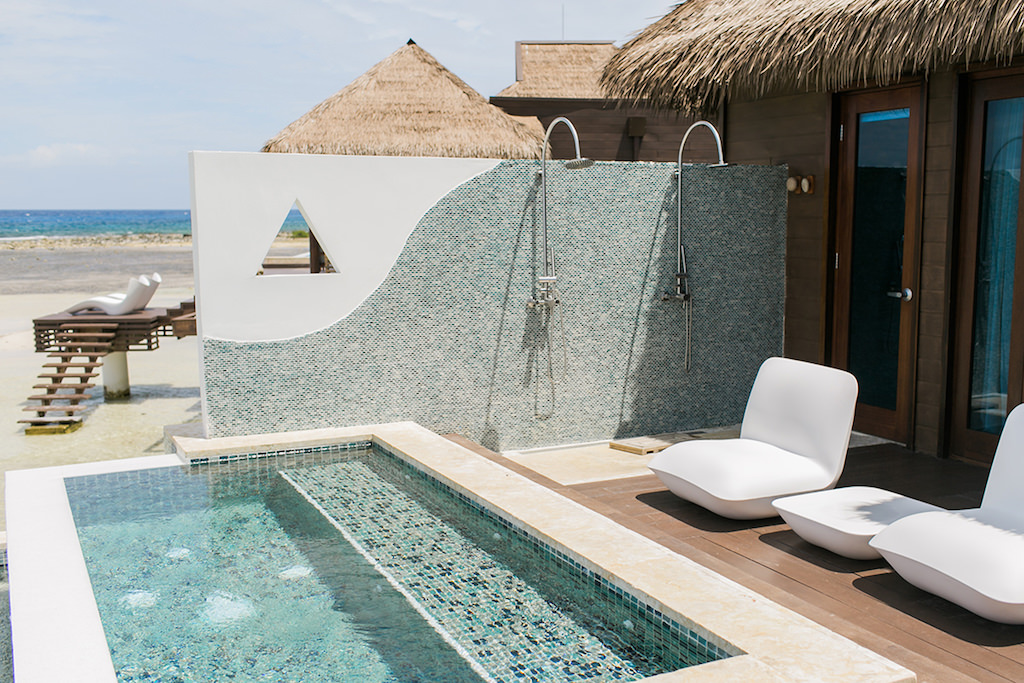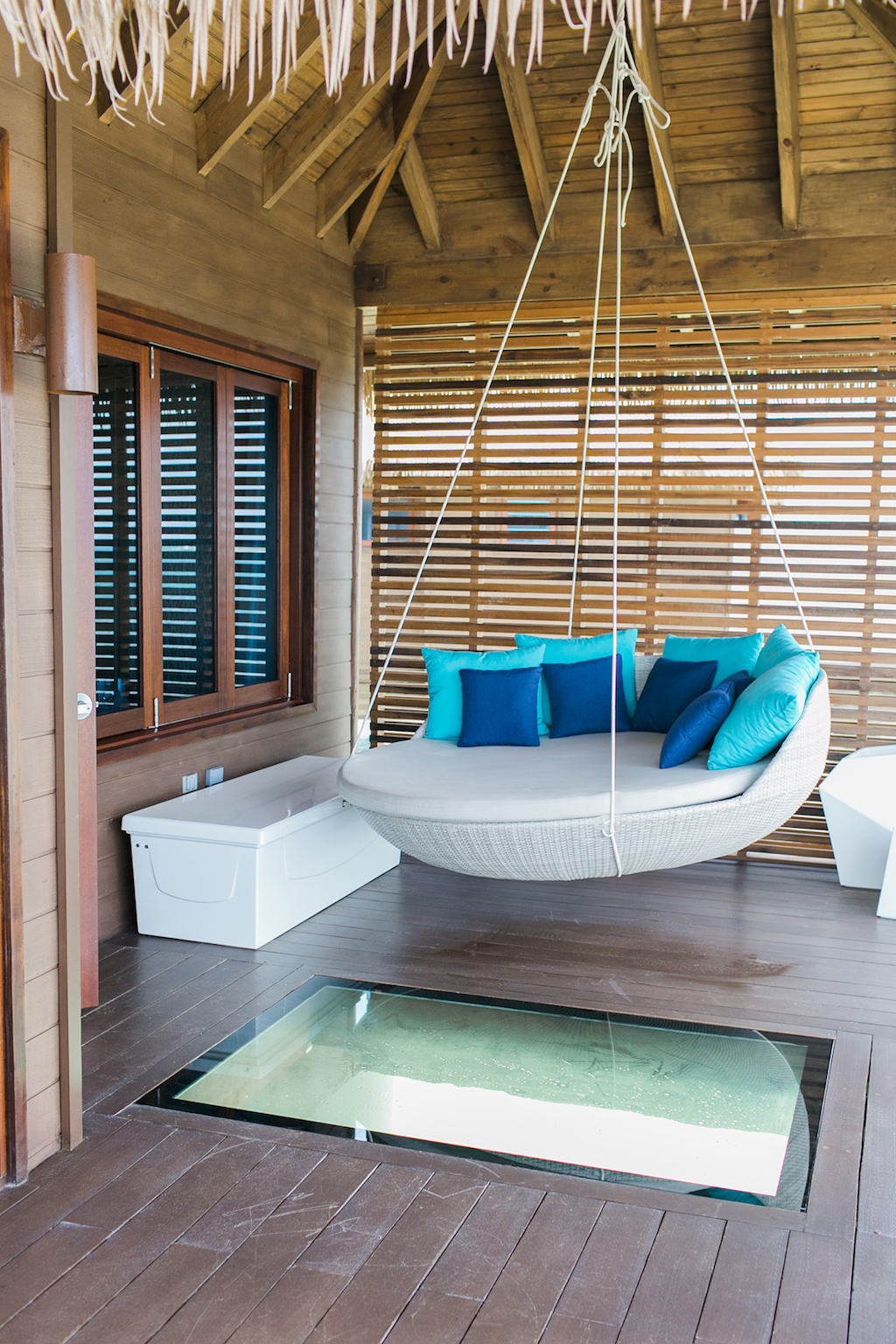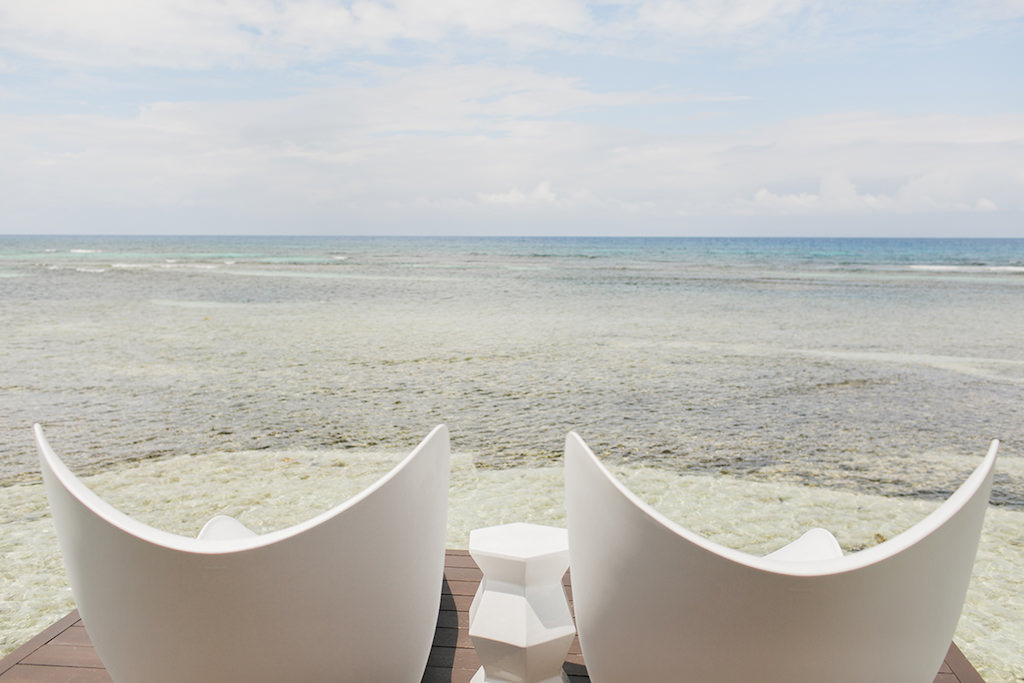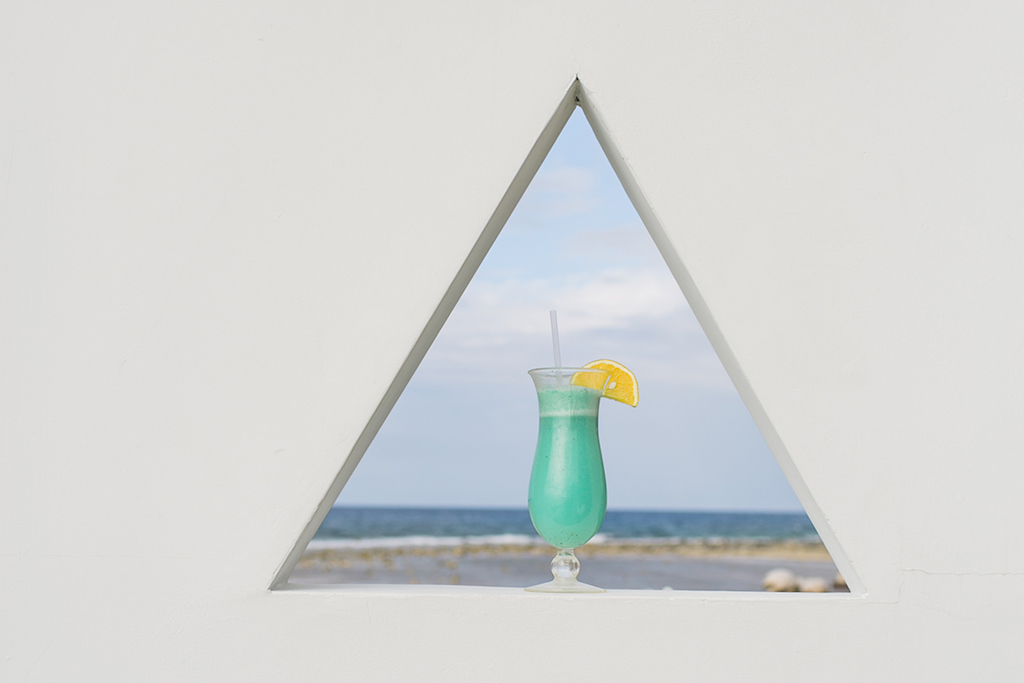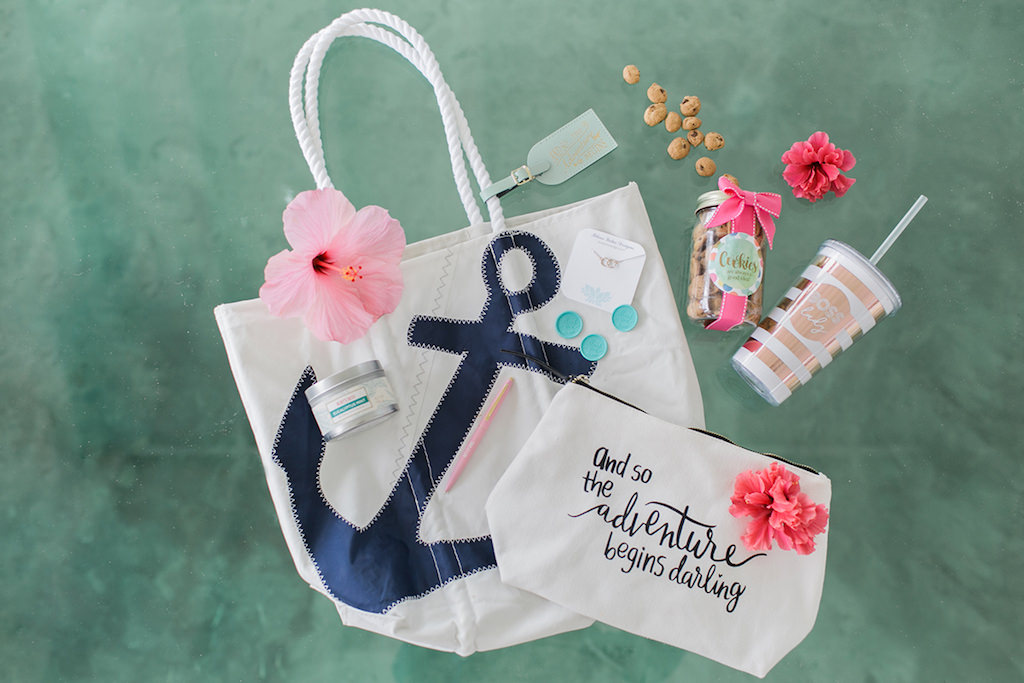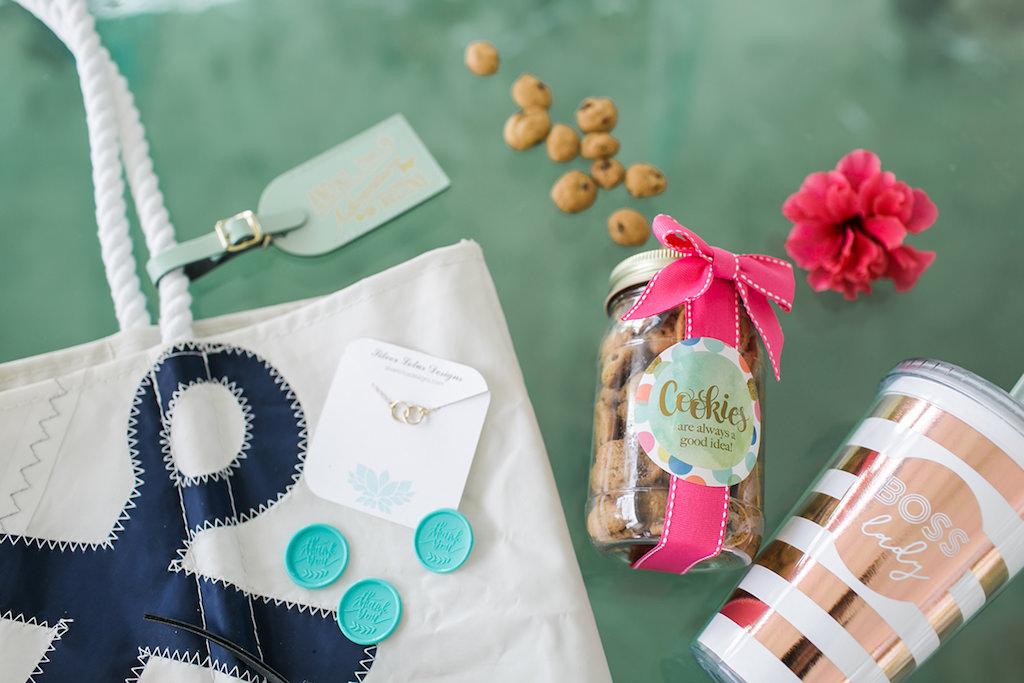 The Resort: Sandals South Coast 
The Aisle to Isle experience continued to Sandals South Coast, located on the southwest side of Jamaica. This is where we spent a majority of our trip as there was so much to experience.
As with all Sandals properties, the grounds were immaculately landscaped, the buildings were bright and colorful and the staff were extremely welcoming. This particular property had a European influence and is set on 500 acres of nature preserve. It features nine restaurants, seven bars, including the new Jerk Shack and Sushi on the Sand (which were my two favorite meals). And since Sandals is an all-inclusive resort, there's no upcharge to dine at their specialty restaurants.
For those who can't afford to splurge on the overwater bungalows at Sandals Montego Bay, Sandals South Coast features the overwater Latitudes bar (my favorite spot on the property), overwater chapel, fire pits and a beachside fine dining.
What's especially appealing about this particular property is that every room and suite are ocean-facing, so there's never a bad view.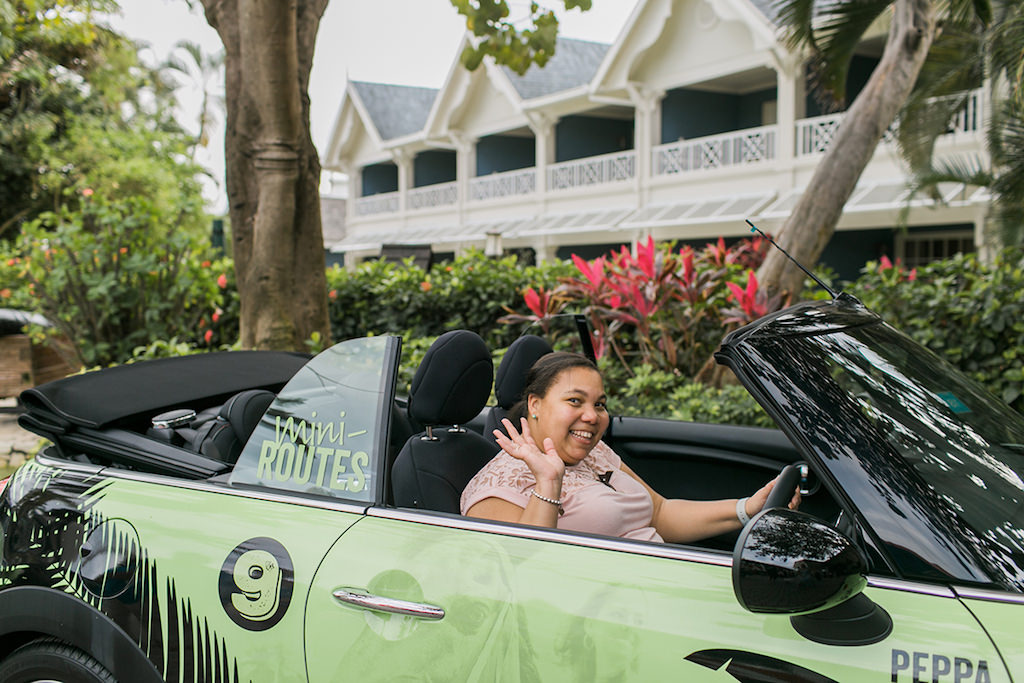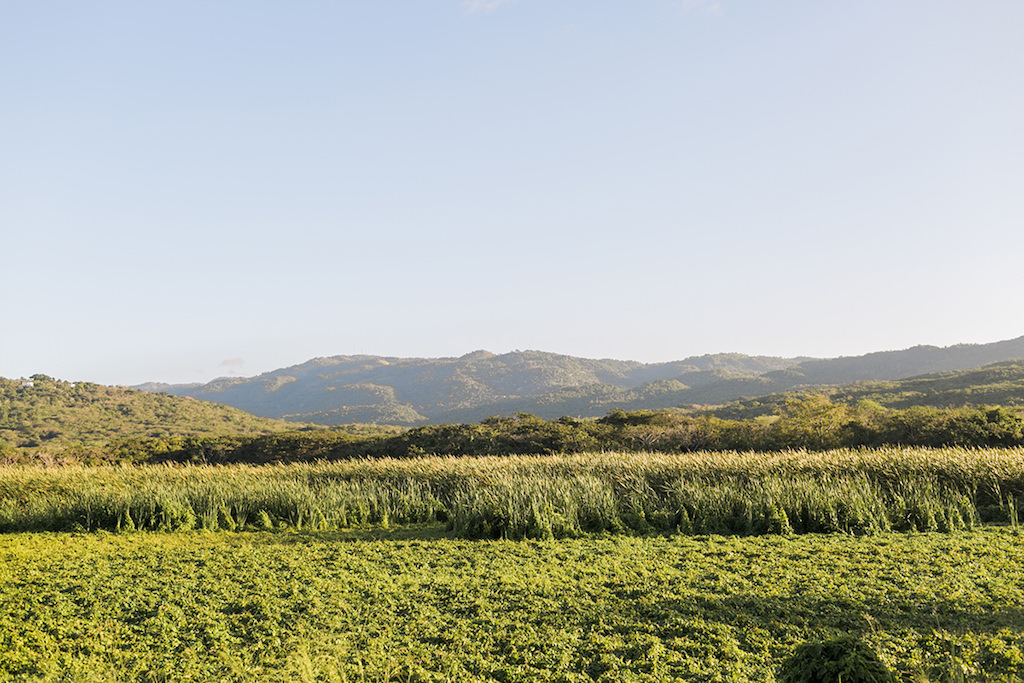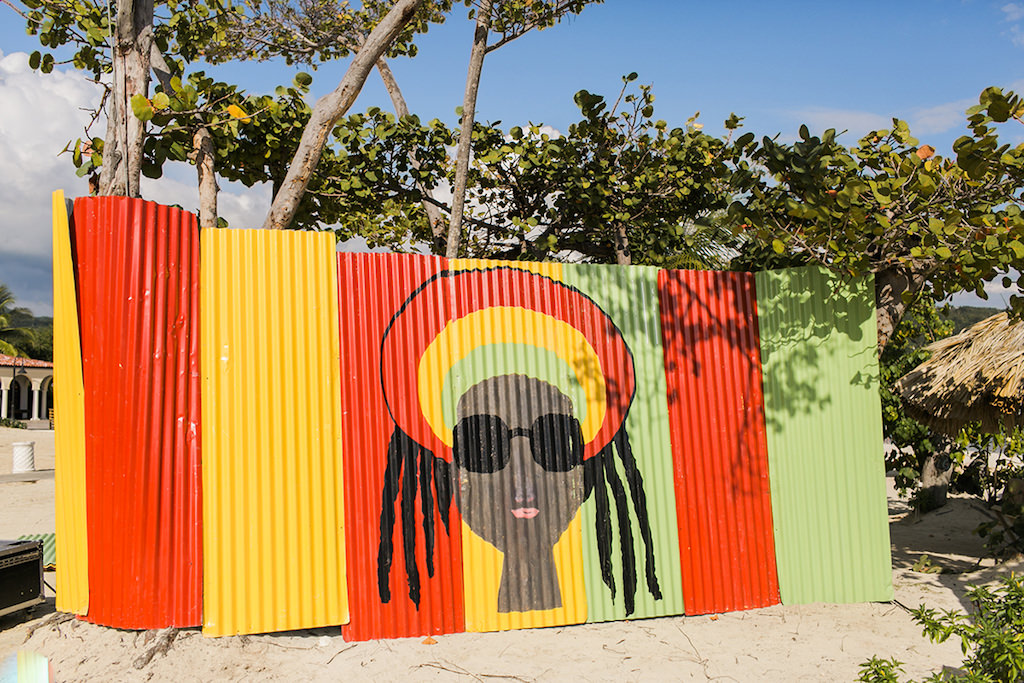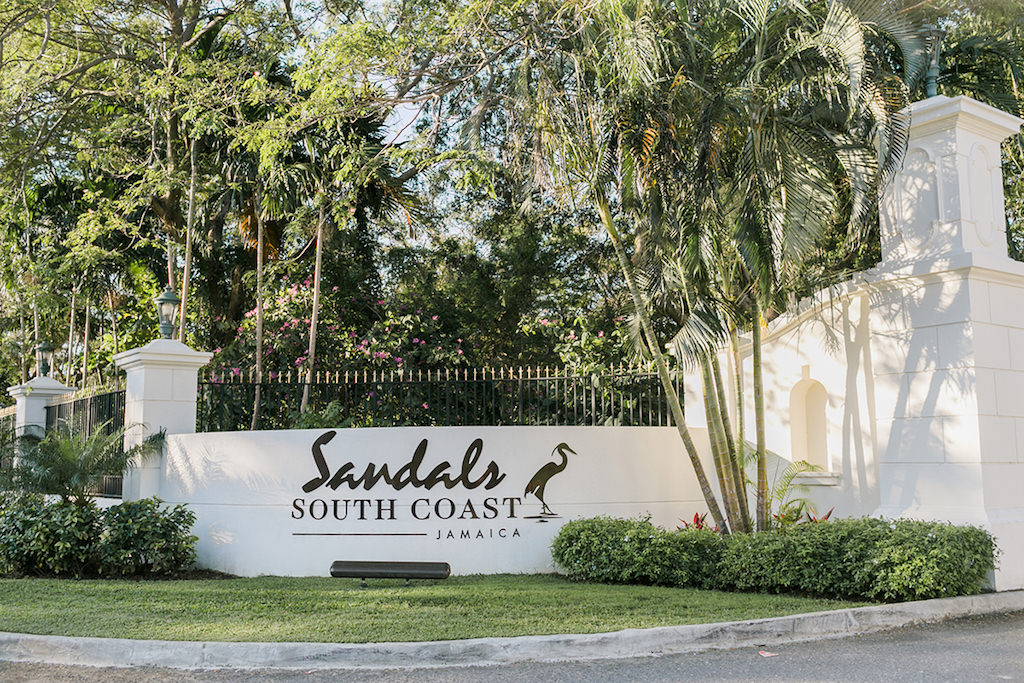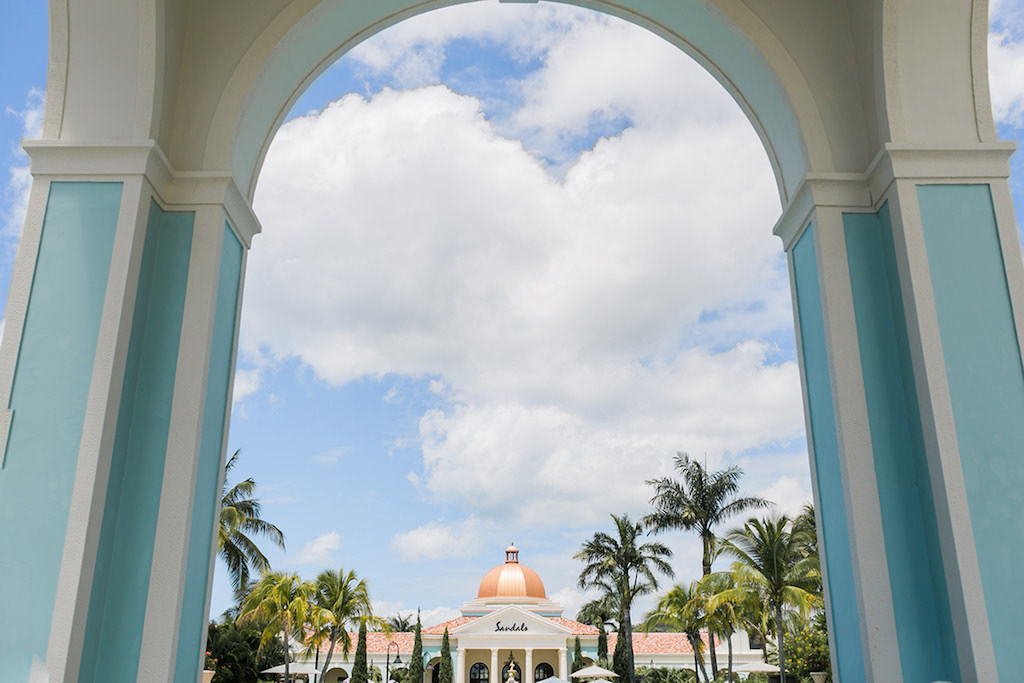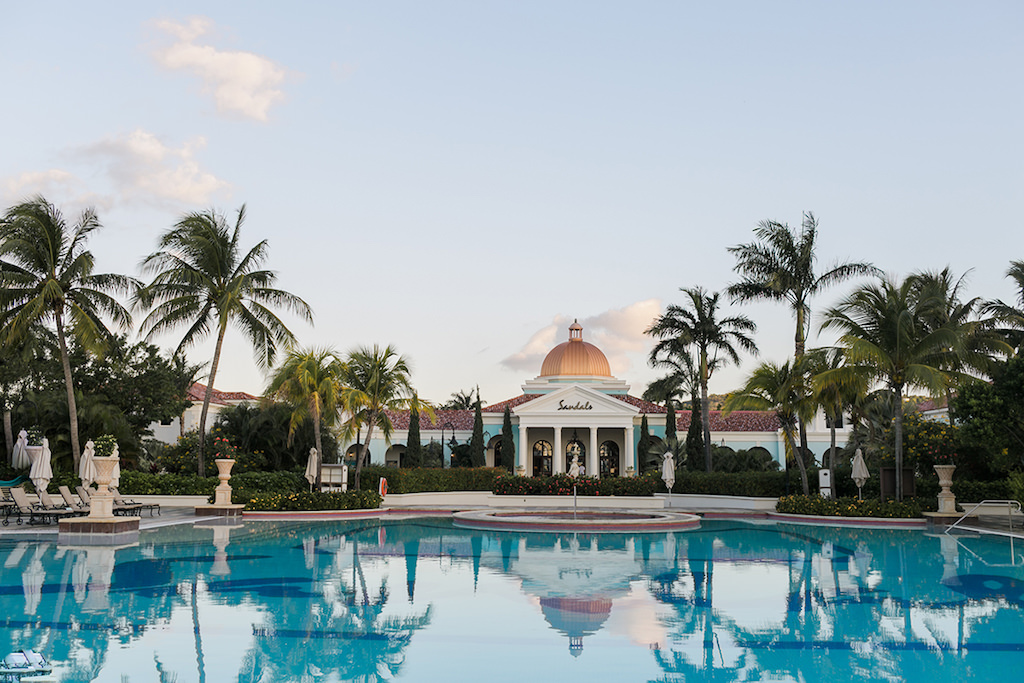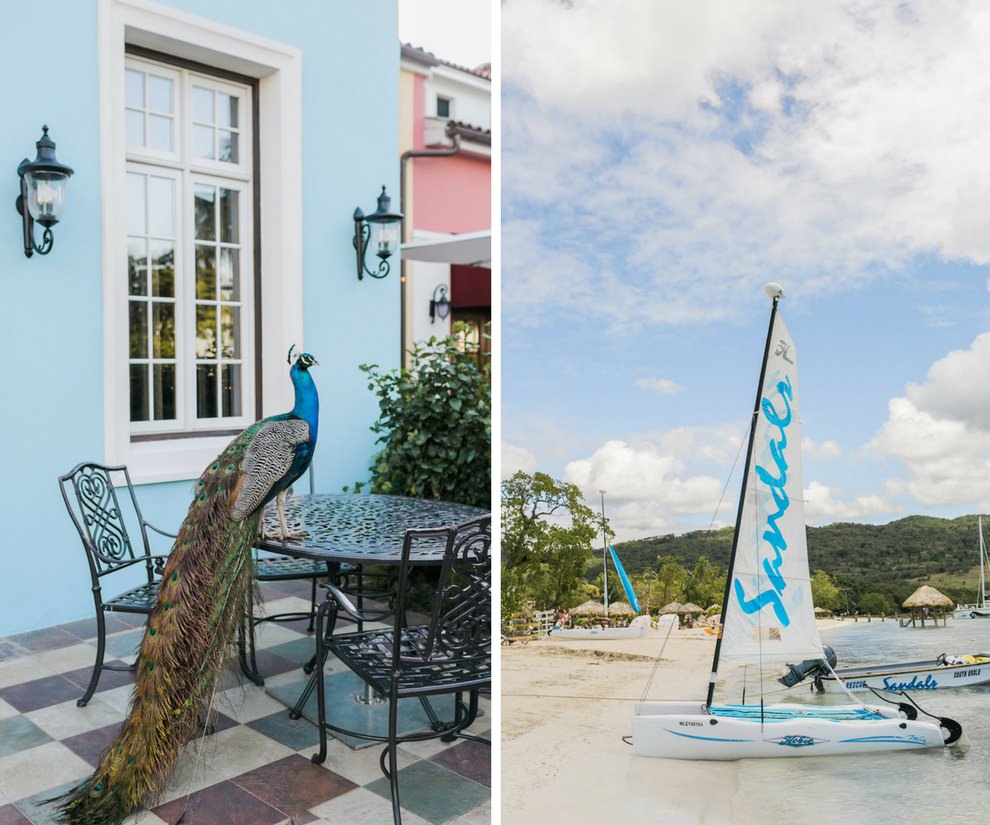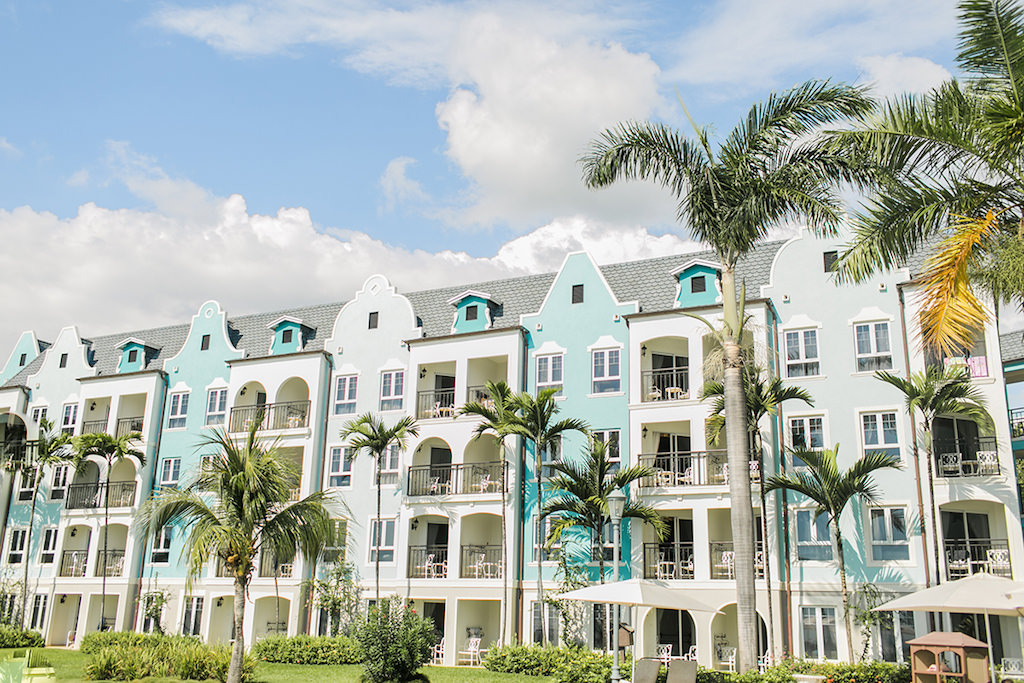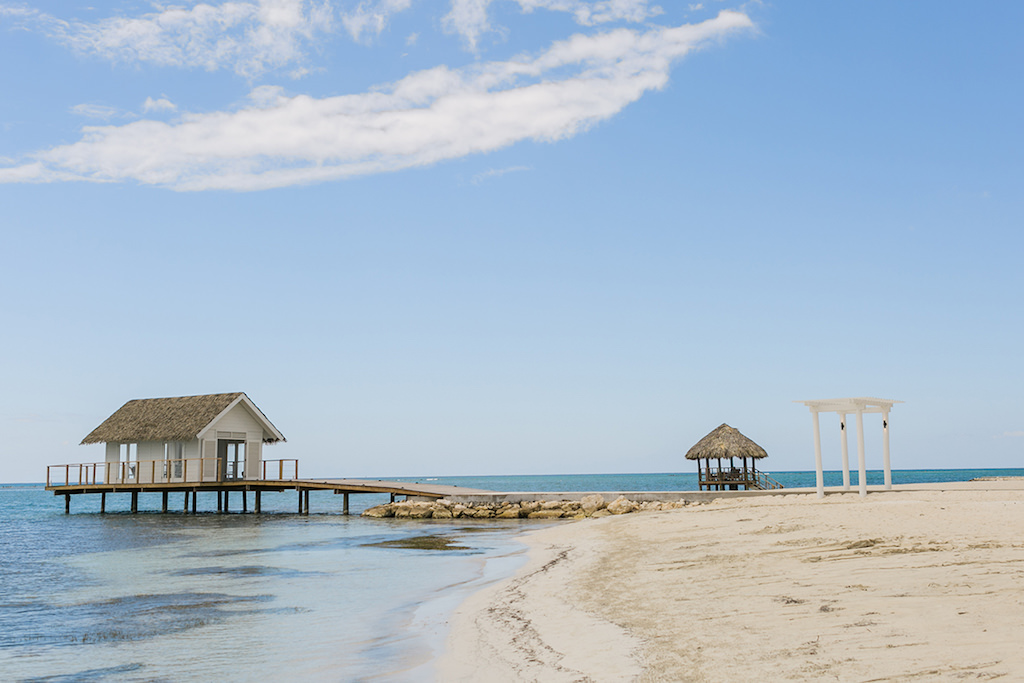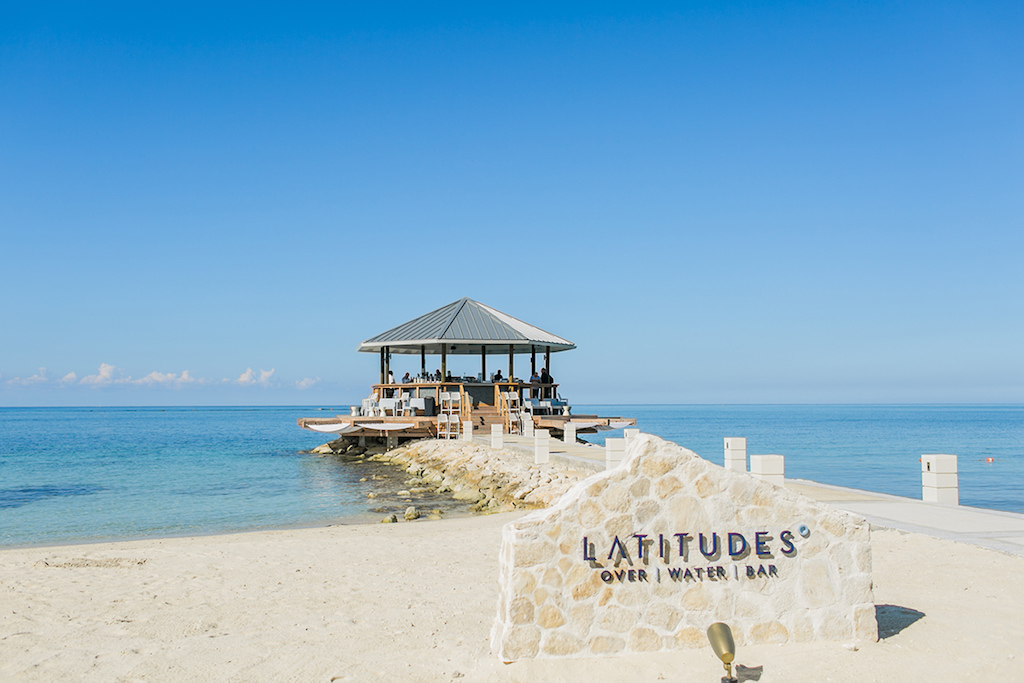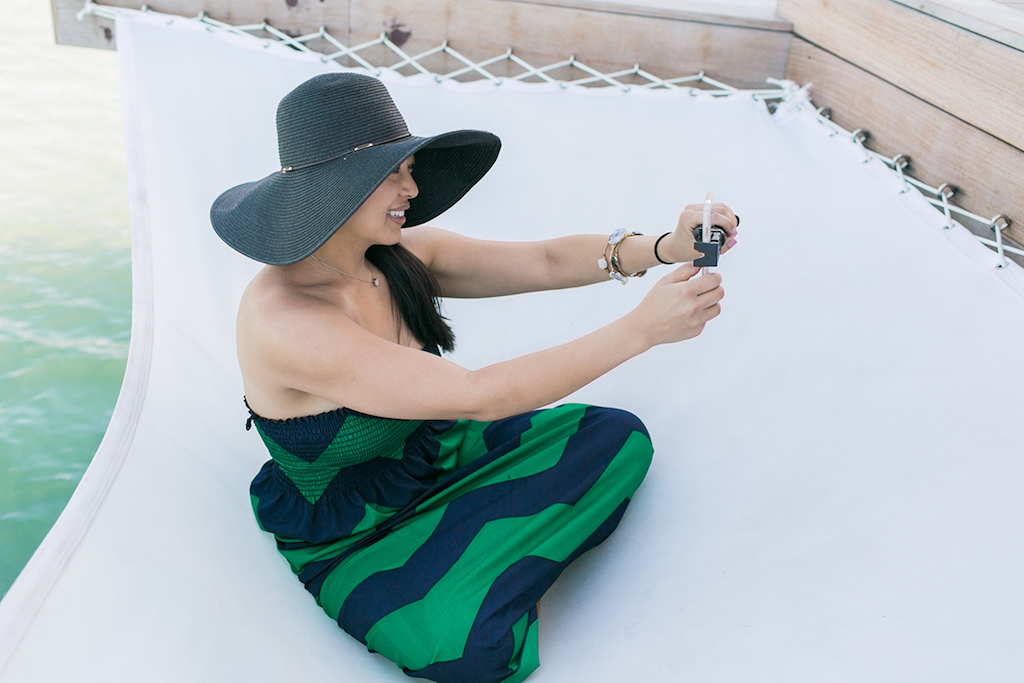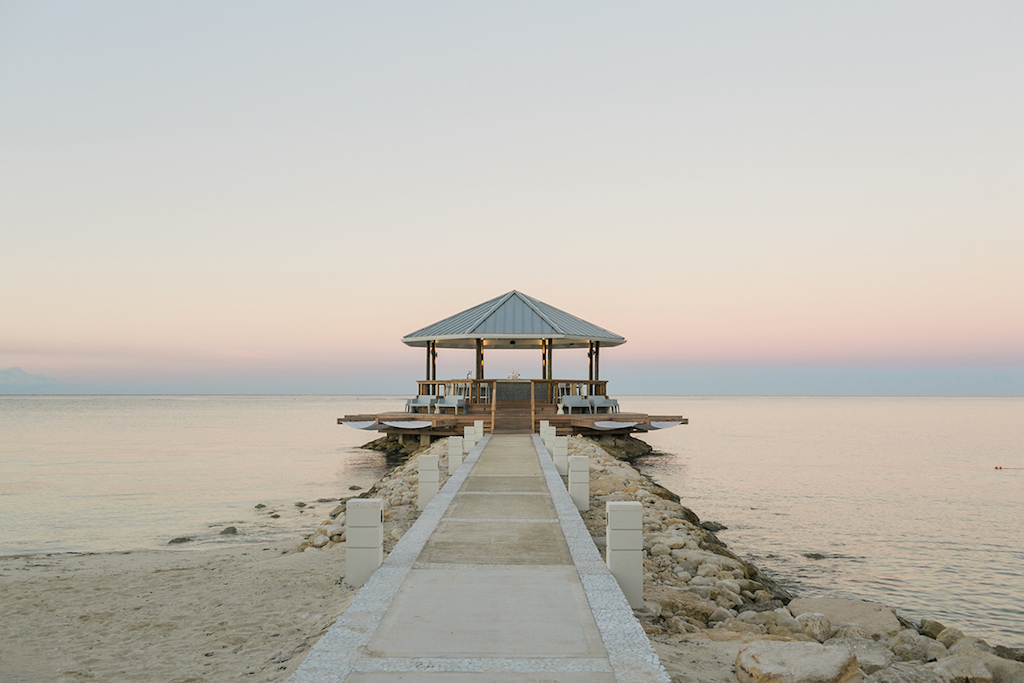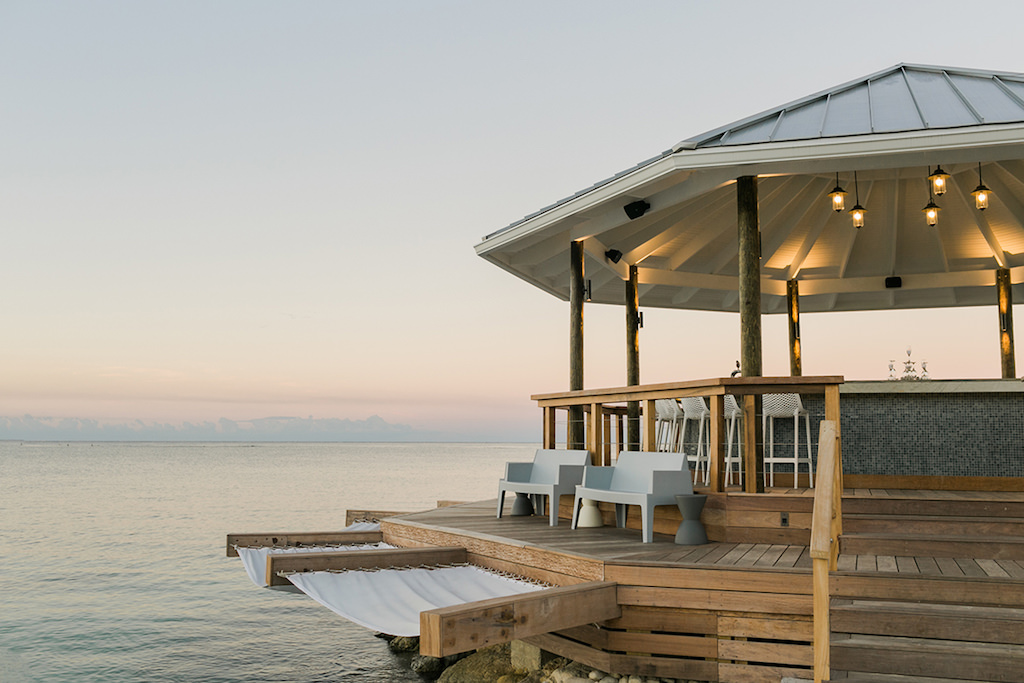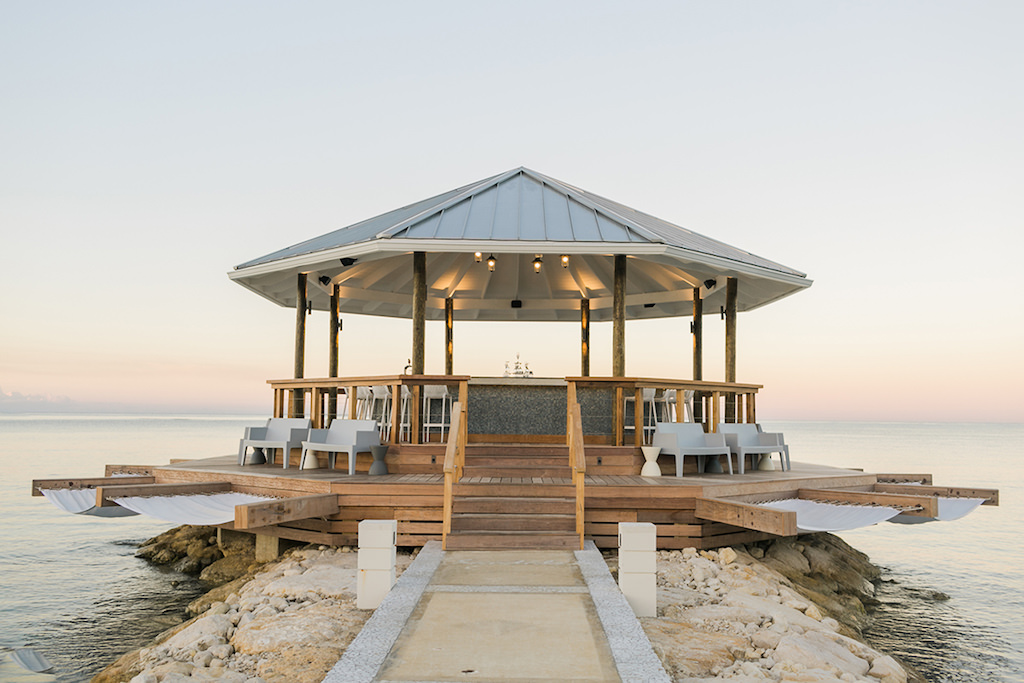 Getting Married at Sandals
Sandals South Coast features the Caribbean Sea overwater wedding chapel with breathtaking 360-degree, panoramic water views and a glass floor aisle. It also offers beach receptions, an enchanted garden lawn and traditional ballrooms, offering the best of all worlds!
The eight new inspirations launched with the new Aisle to Isle program are influenced by the tropics, gardens, romance, passion, the islands, sophistication, nature and sand and sea. Complementing the design inspirations are enhanced menu options including themed bar design, custom cocktails and expanded menu selections.
Mirroring the all-inclusive stay, weddings at Sandals Resorts offer a "no worries" movement when it comes to planning. Sandals couples receive their own "wedding entourage," a team of expert planners who will assist with resort selection (there are 18 in the Caribbean), venue scheduling, on-site logistics and the numerous details throughout the wedding stay. This entourage will also have suggestions for welcome celebrations, spa days, groomsmen outings and other activities.
All Sandals weddings, whether it be 5 guests or 50, include a one-hour cocktail reception, bride and groom signature cocktail, a pre-travel surprise gift, white chivari chairs, manicure, 30-minute foot massage, personalized wedding website, personalized gift registry, honeymoon dinner, breakfast in bed and one 5×7" wedding photograph.
I've visited numerous Sandals resorts, and one thing that always stands out is how amazing the wedding teams are. They are truly service oriented and embrace Caribbean hospitality. Their designers stay current with on trend decor and give couples creative suggestions for tabletop, floral accompaniments and settings, runners, chair selections, altars and more.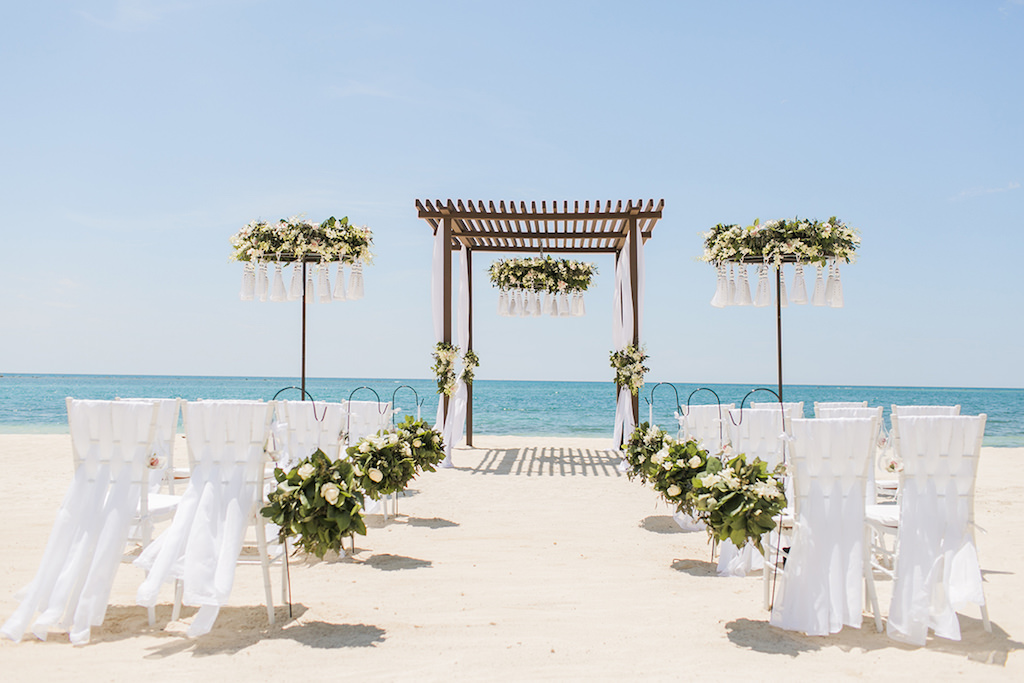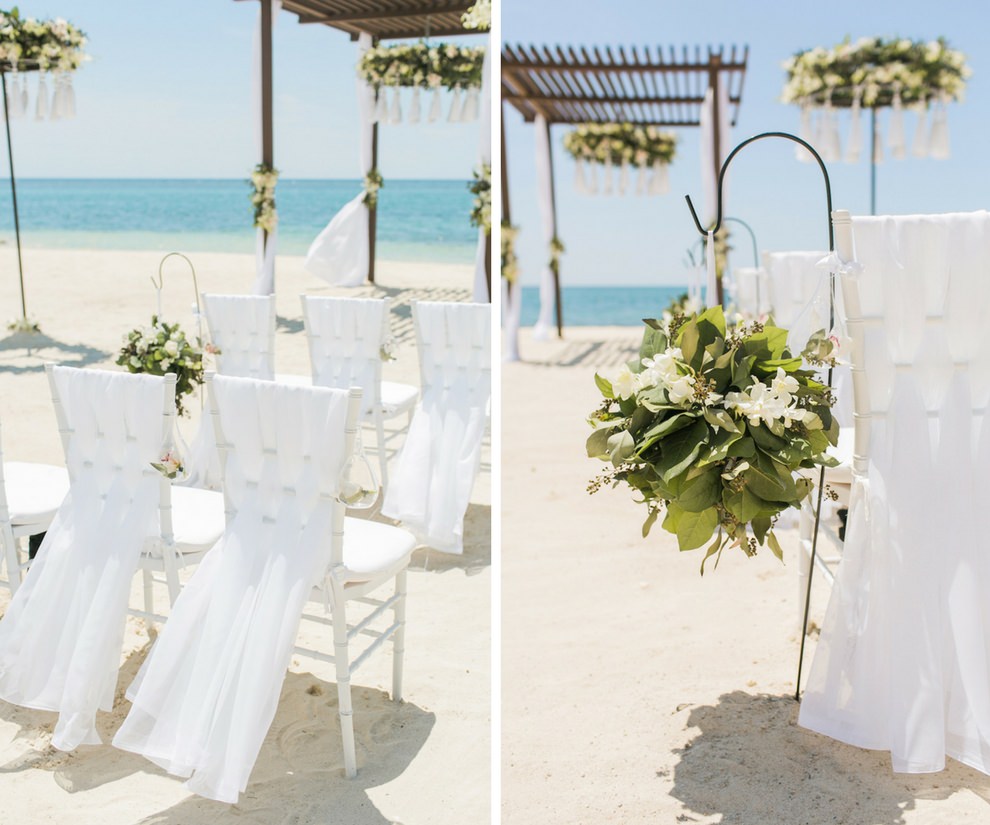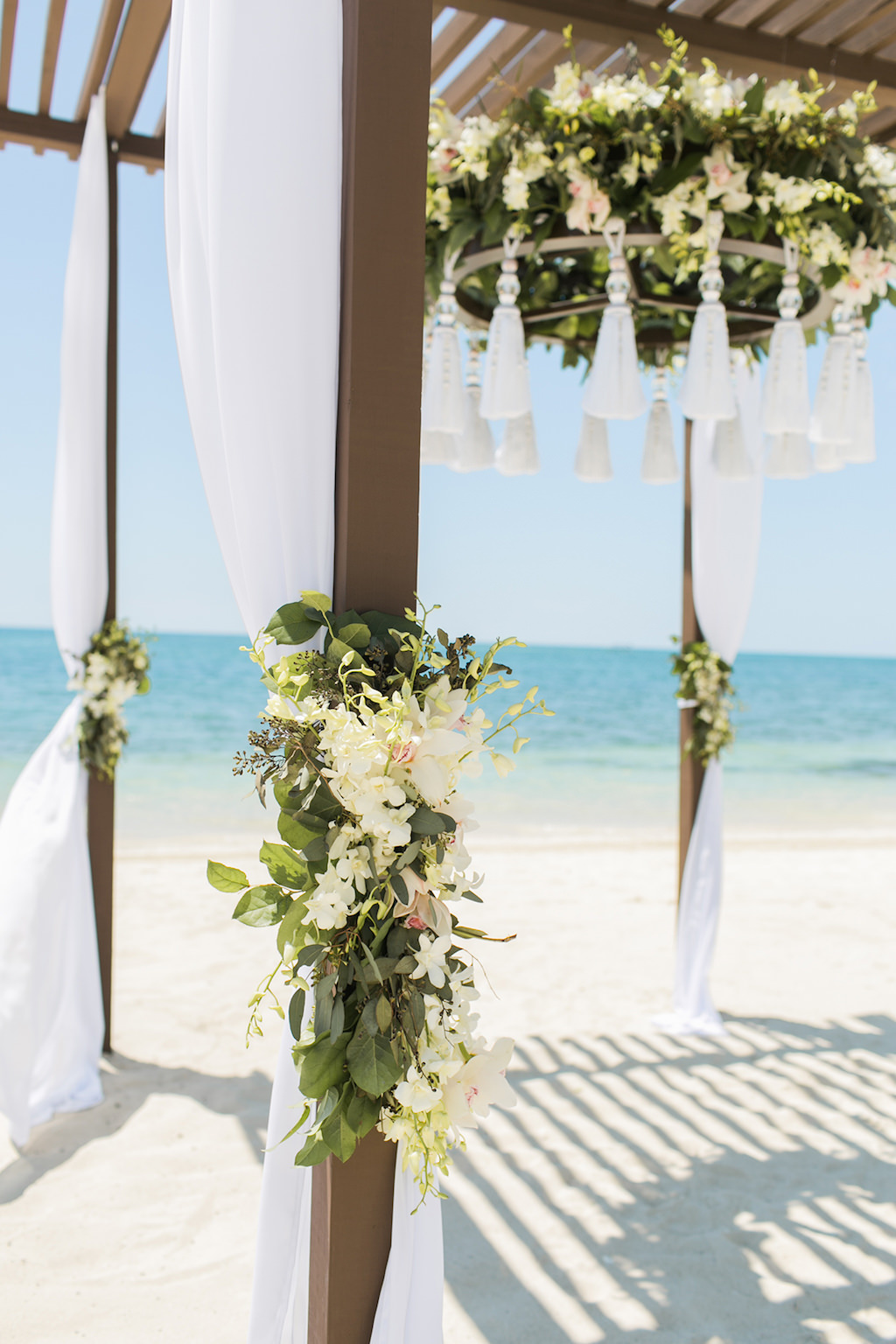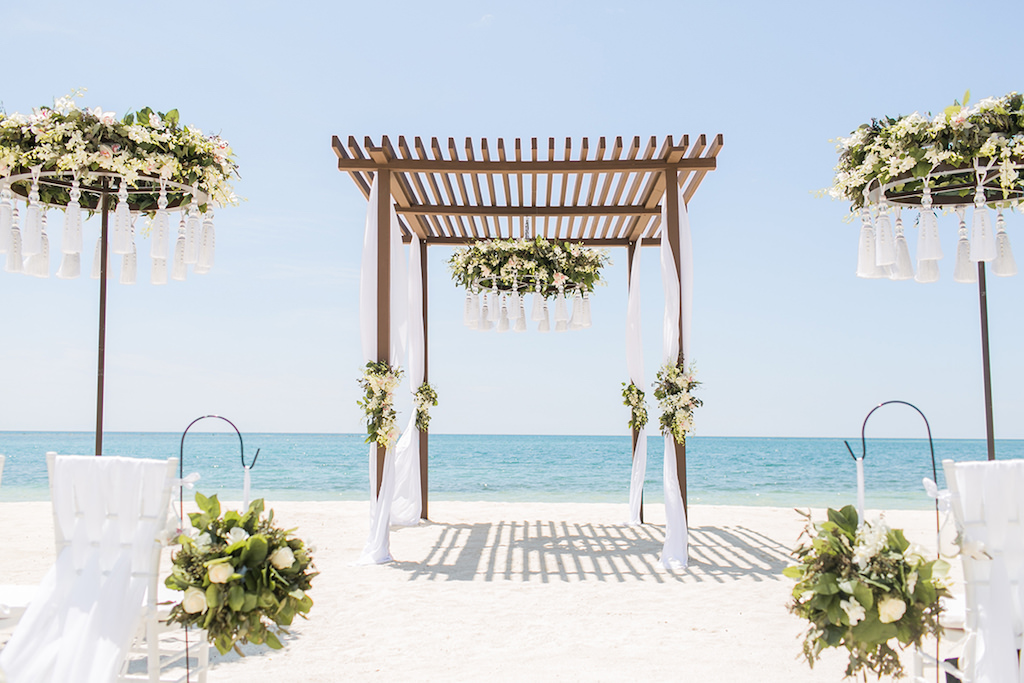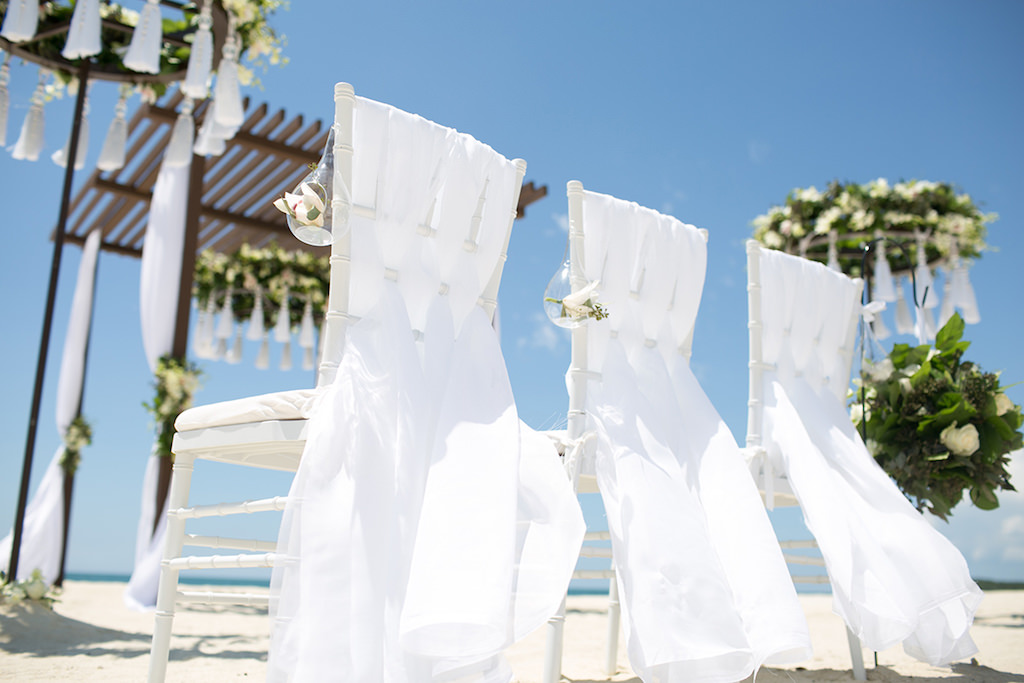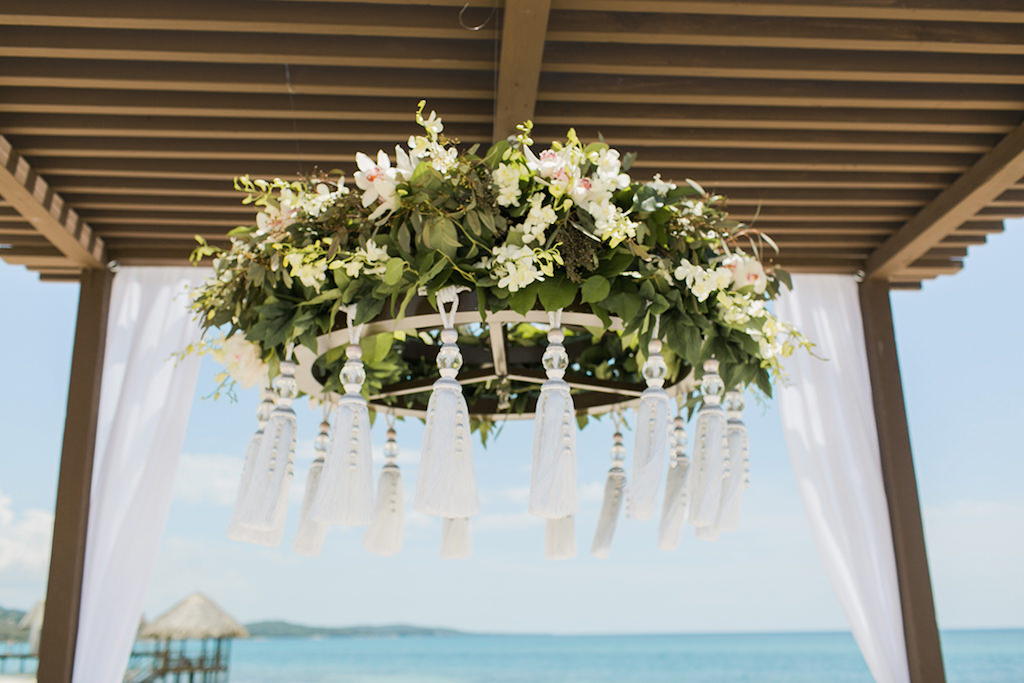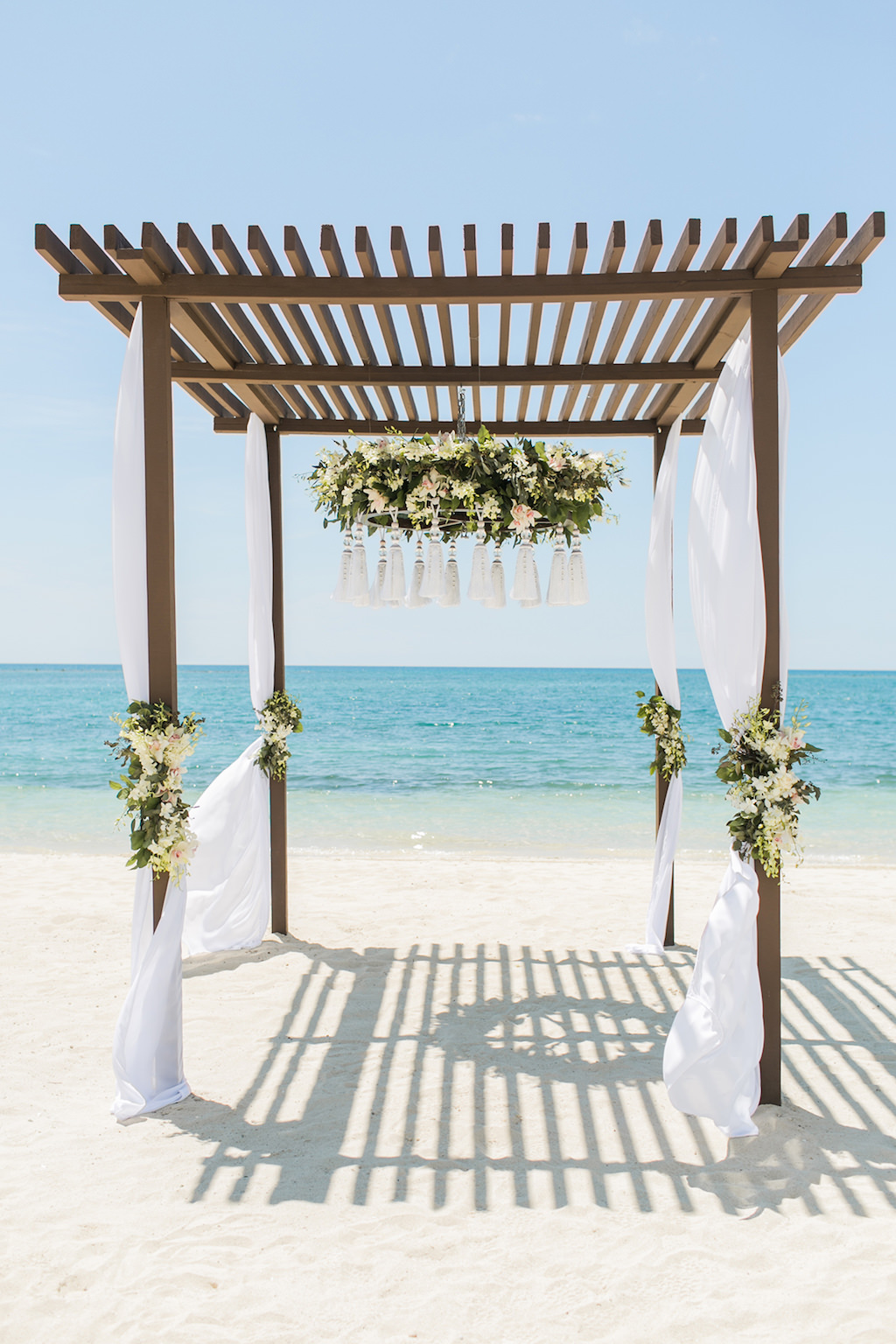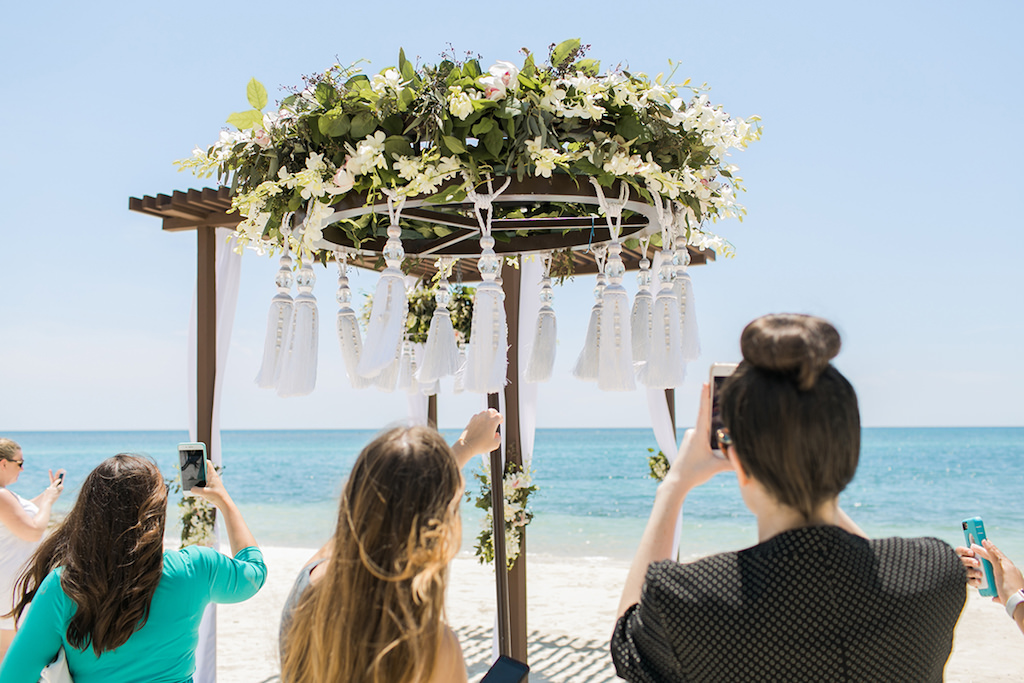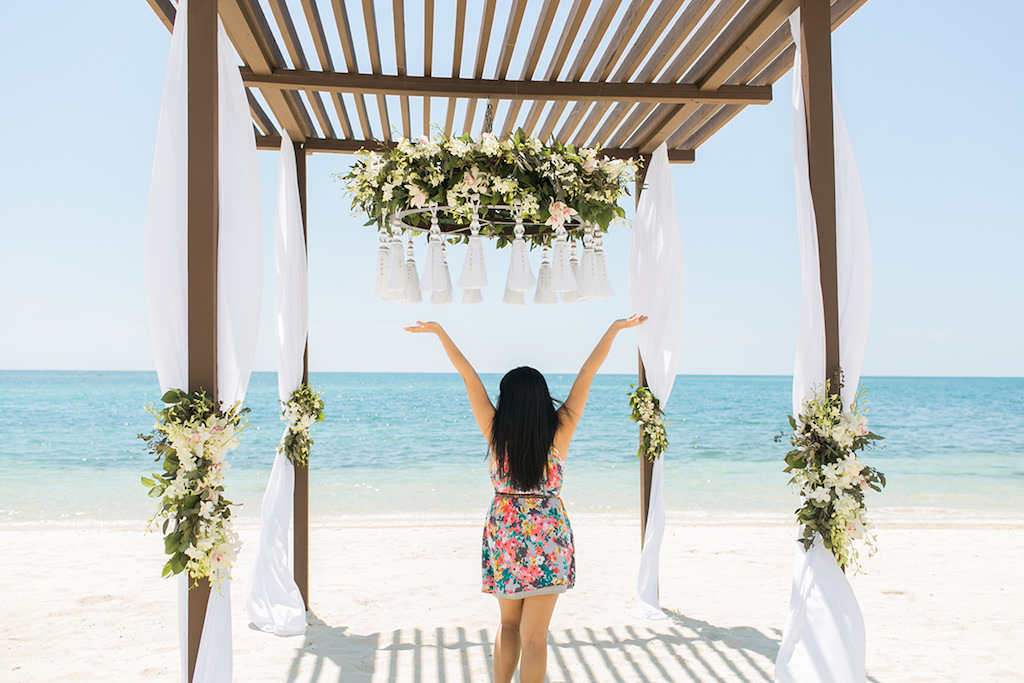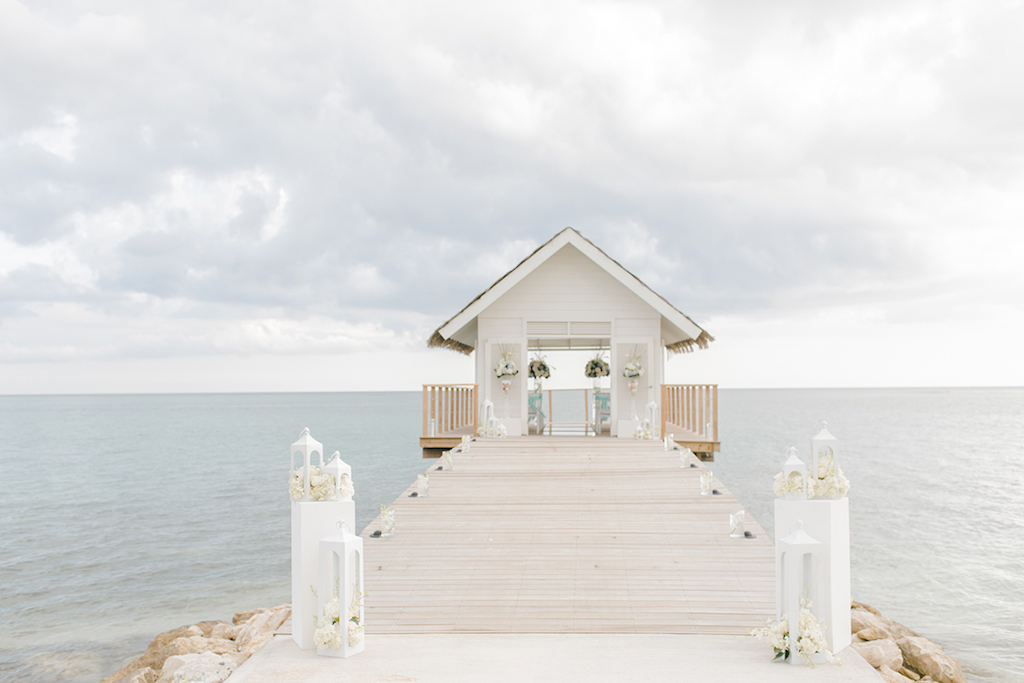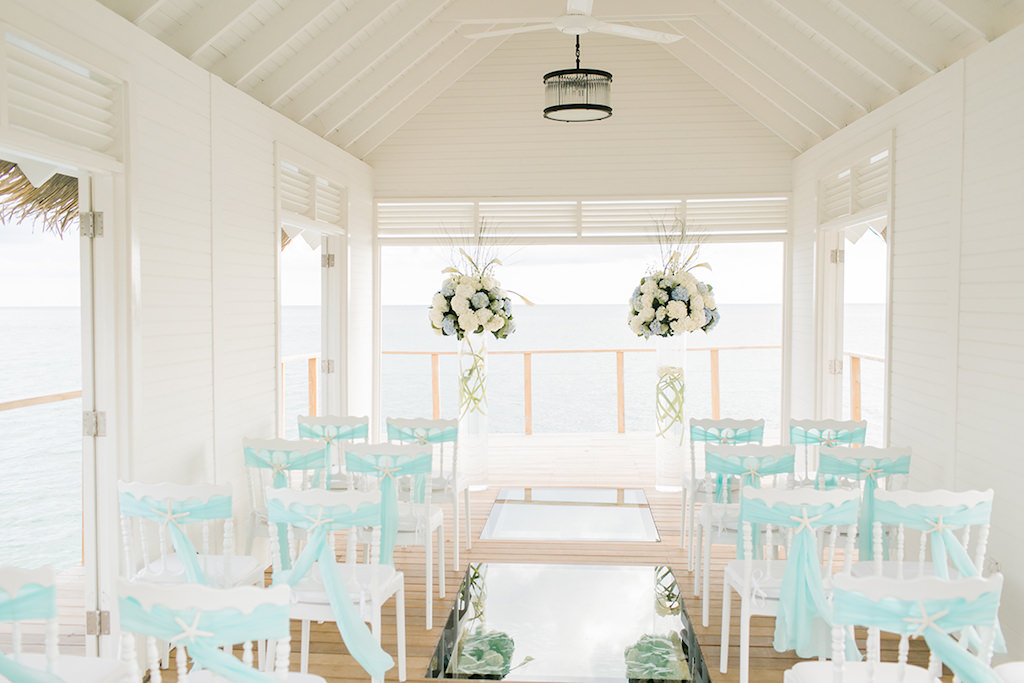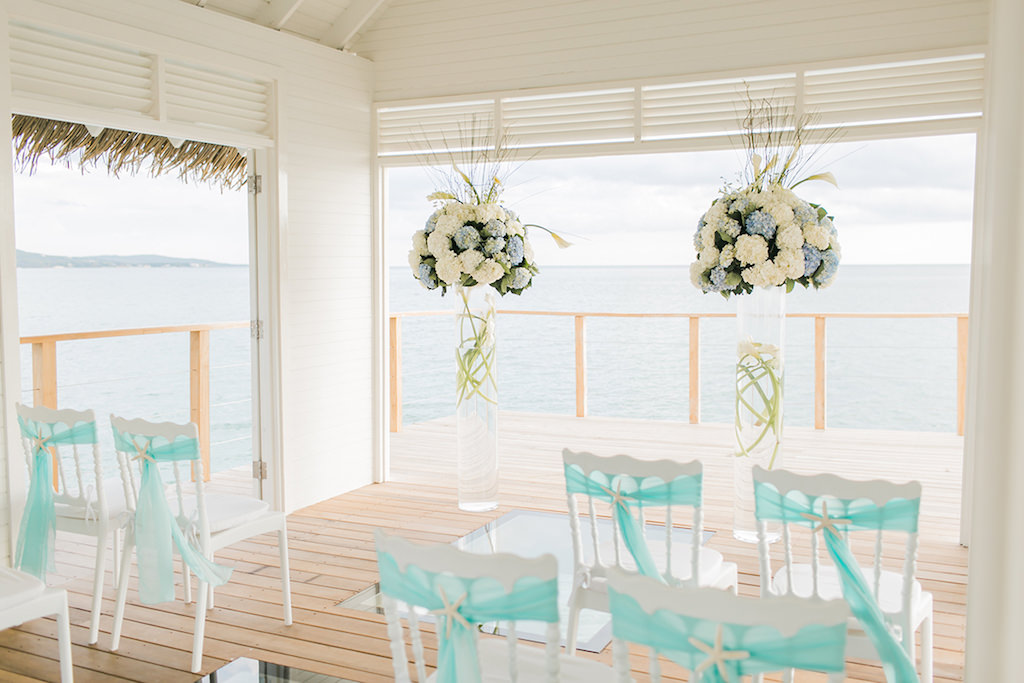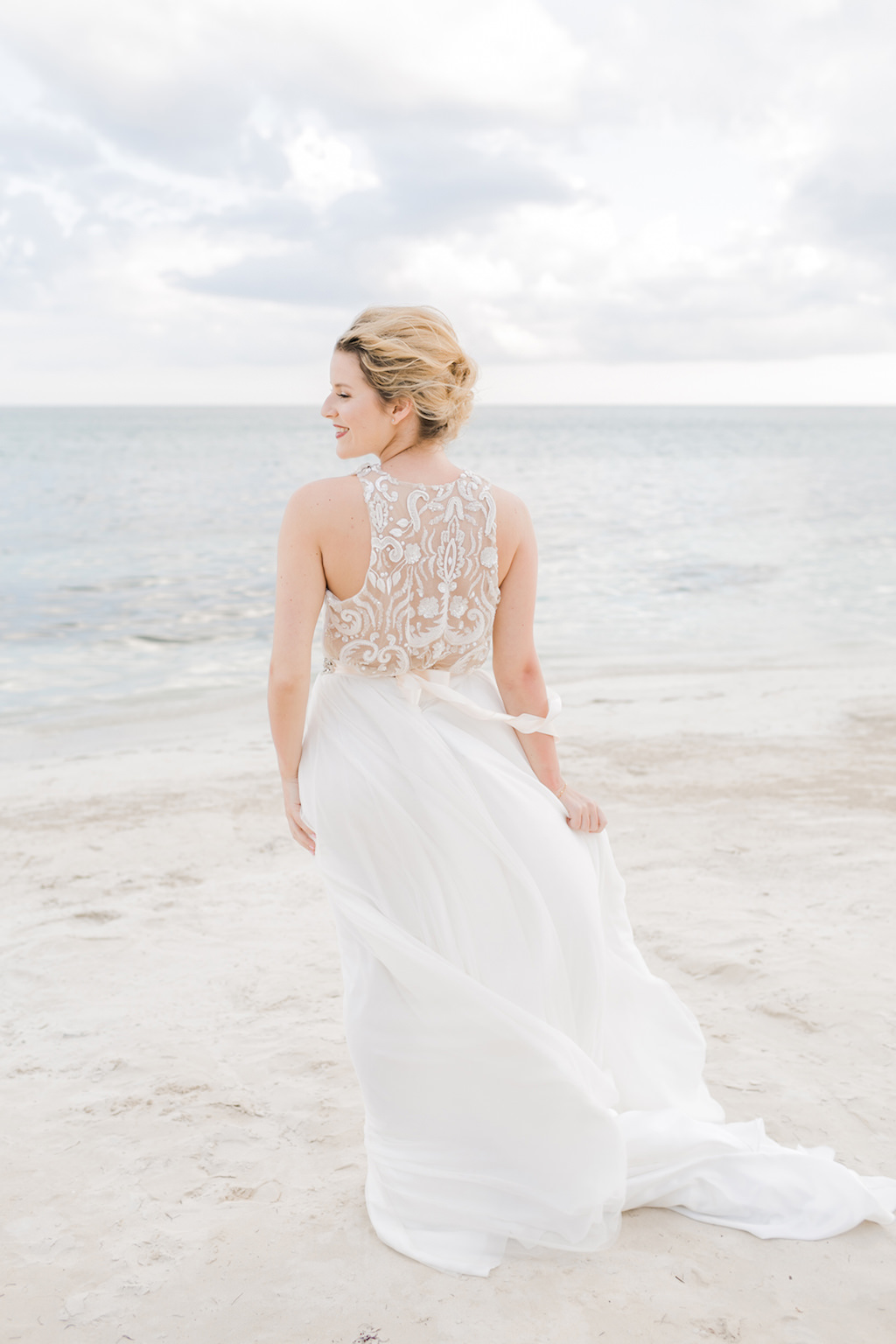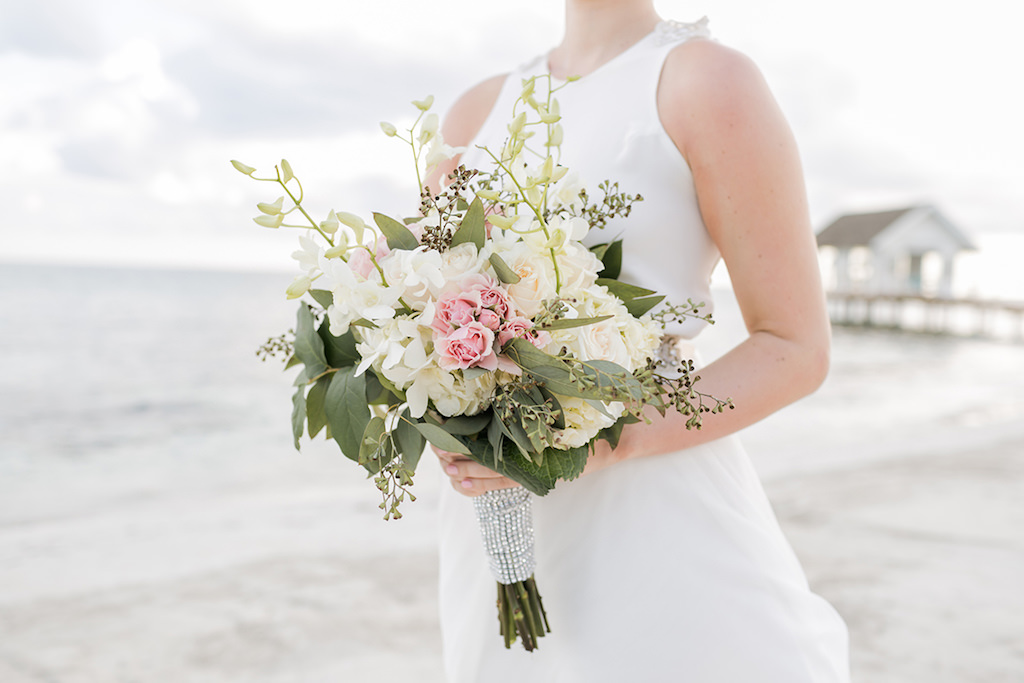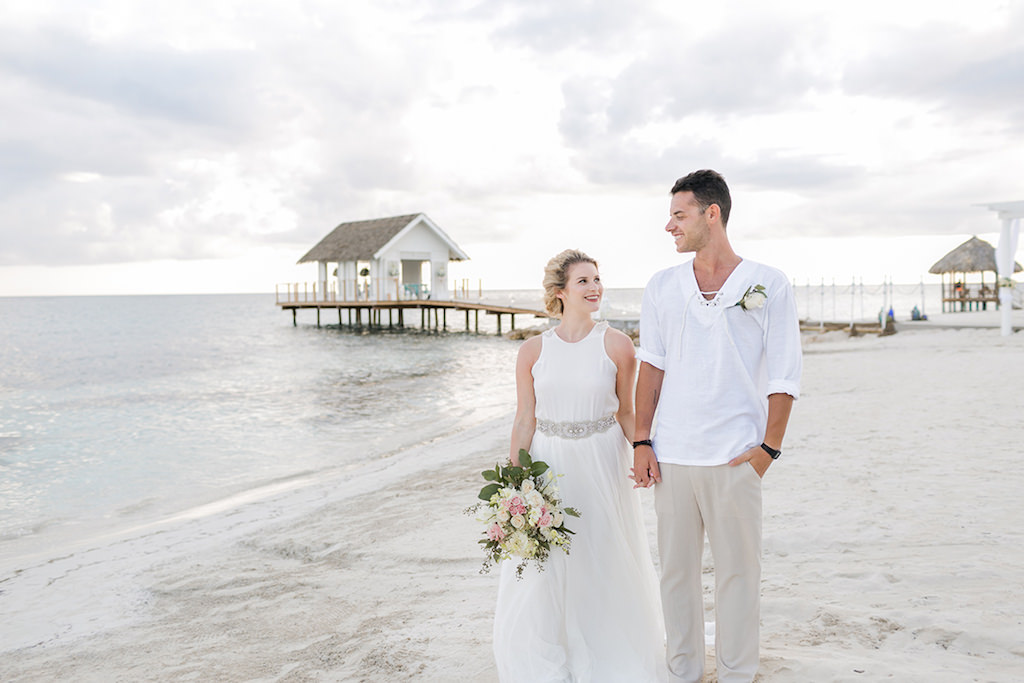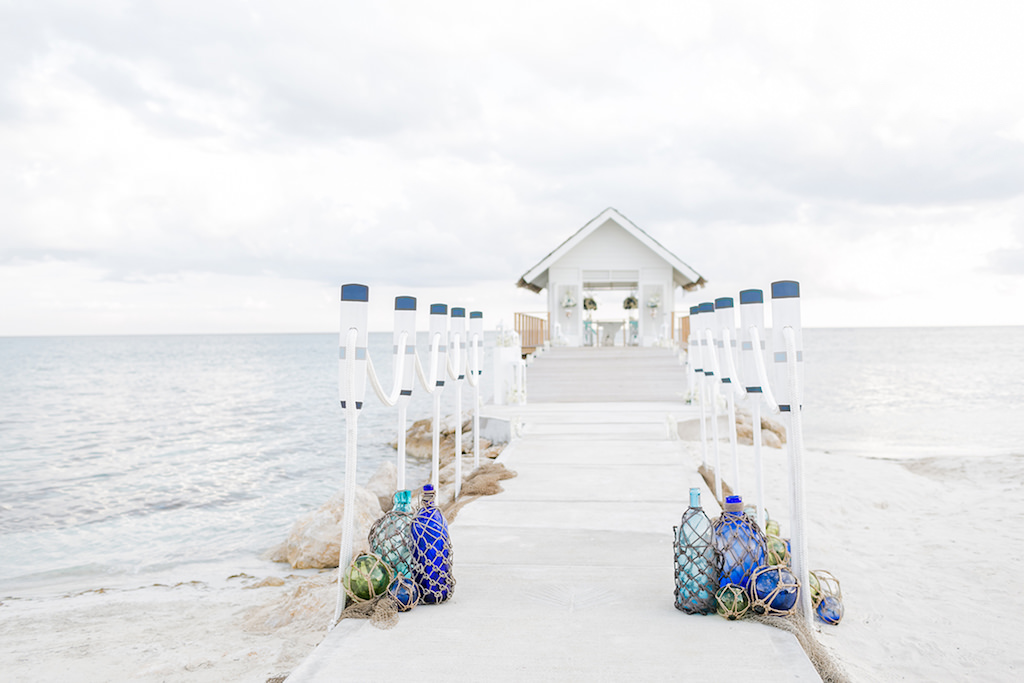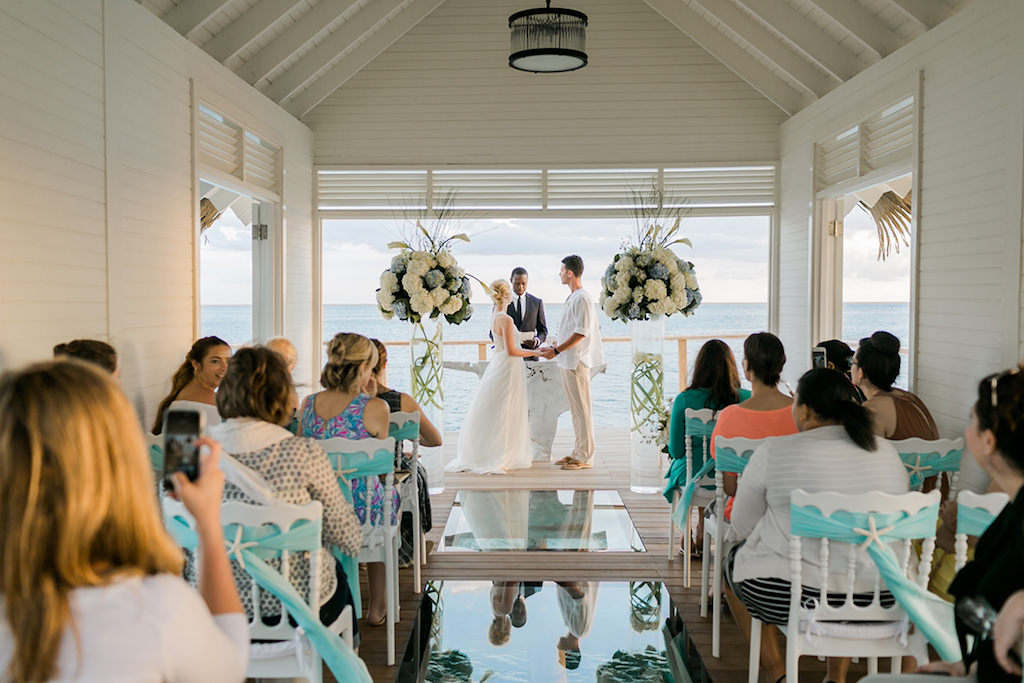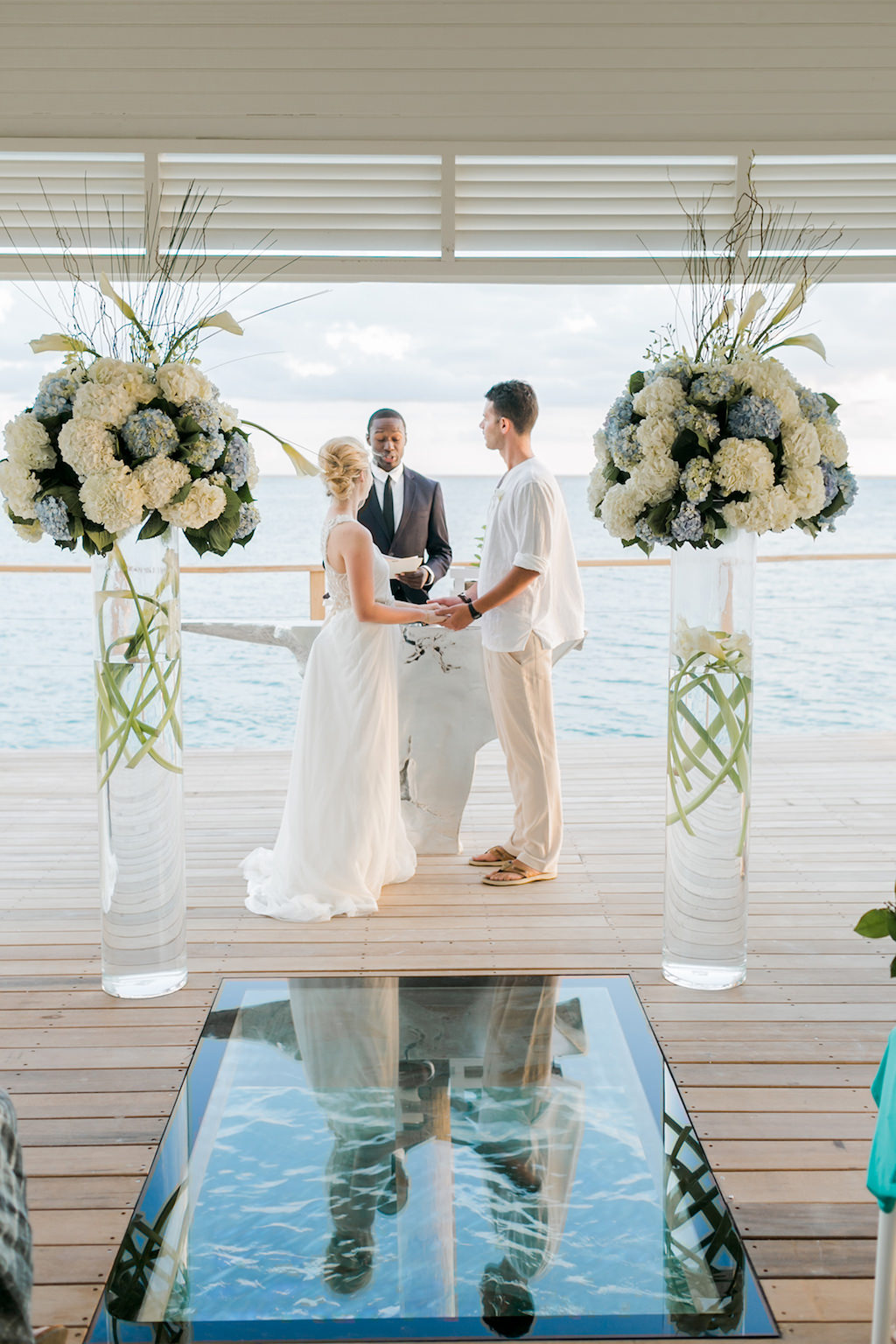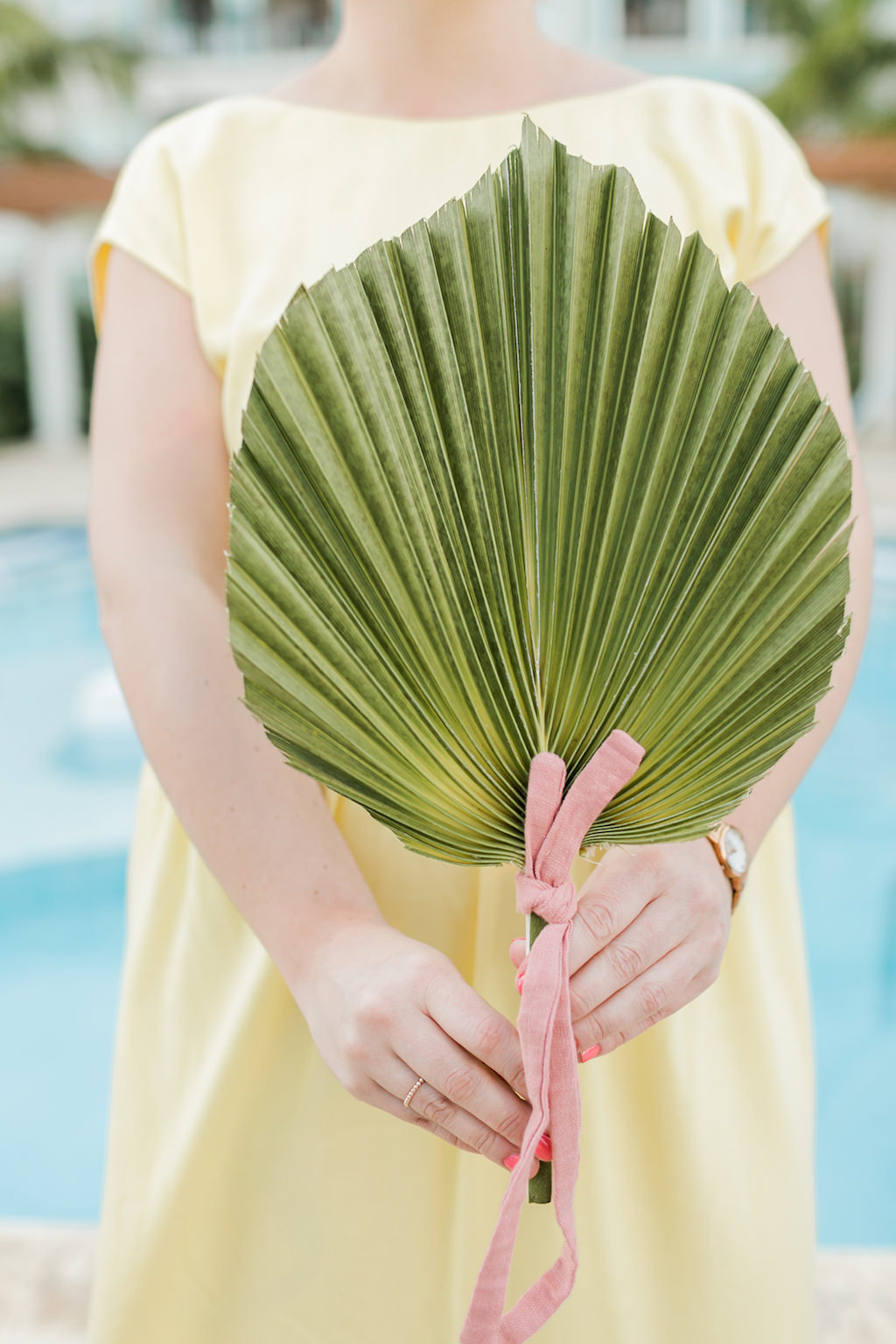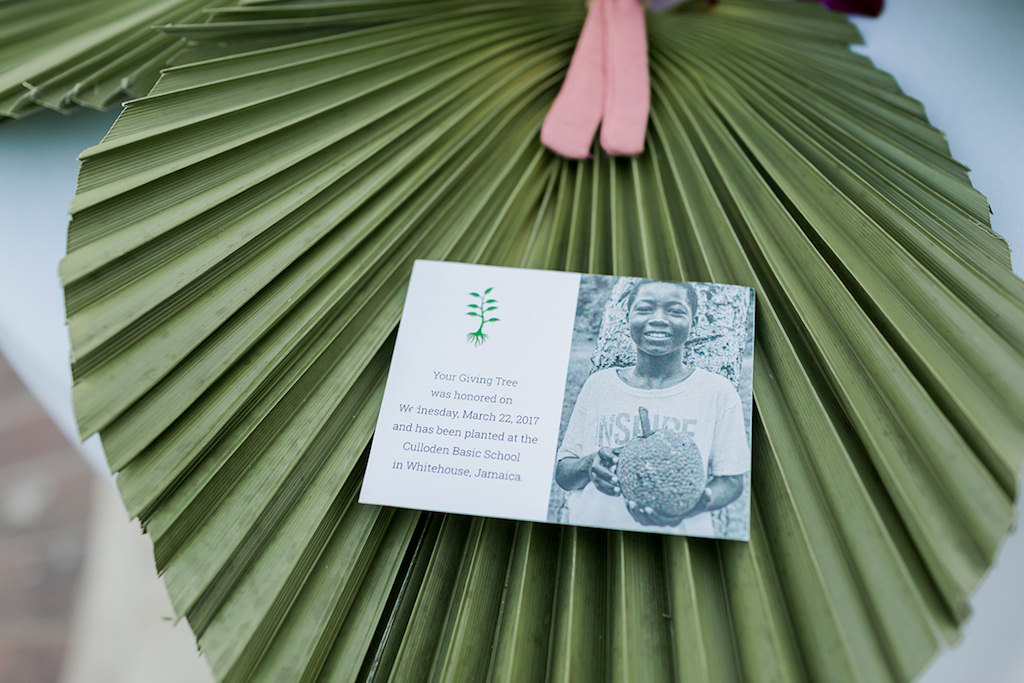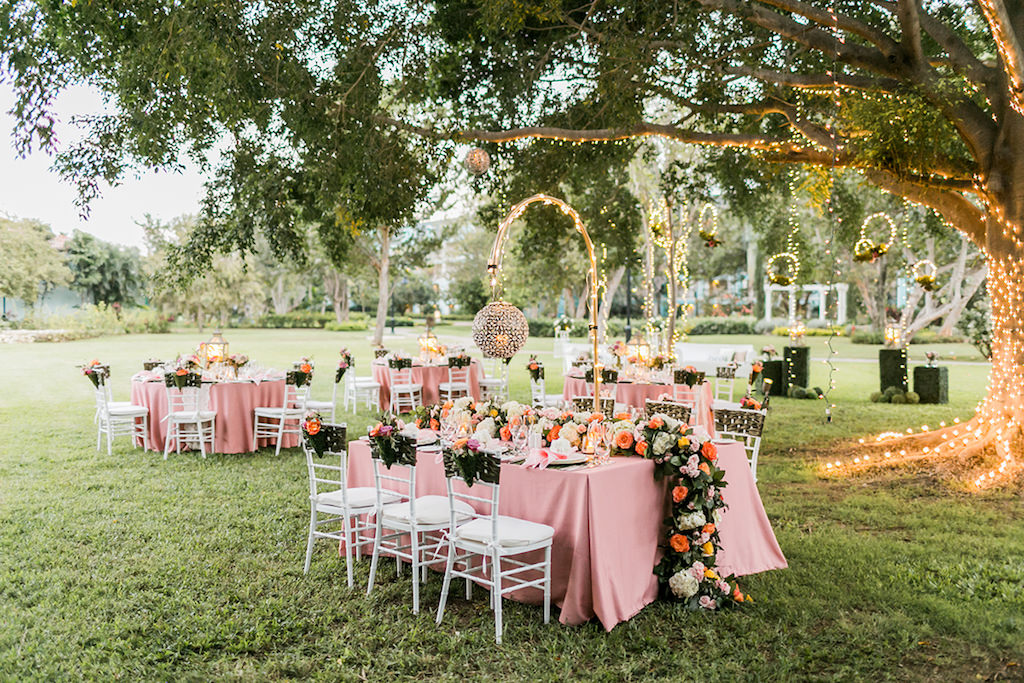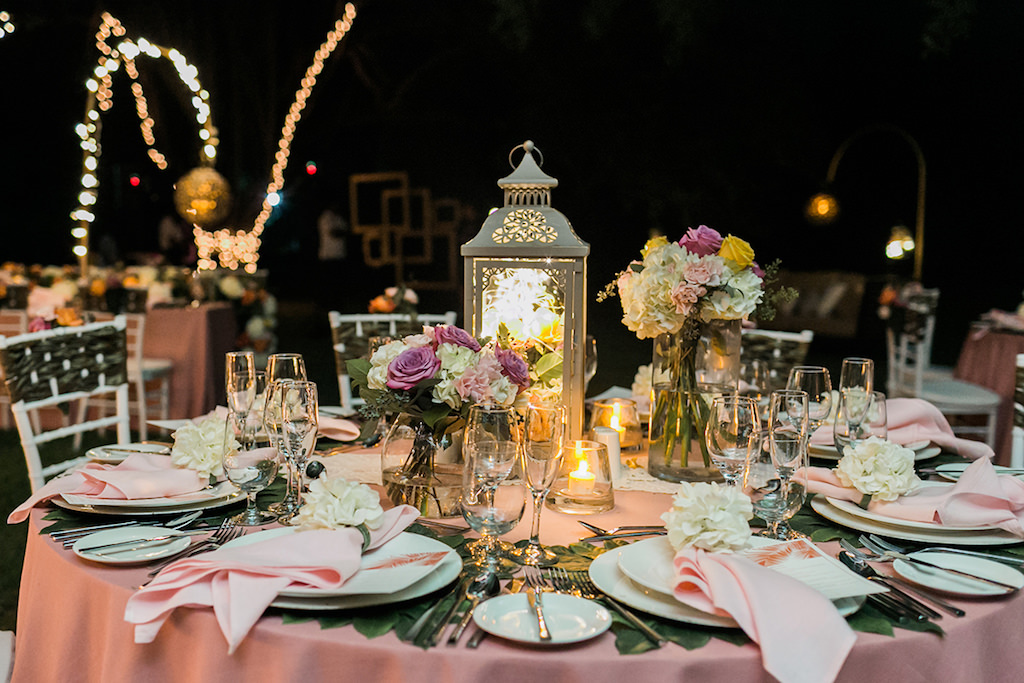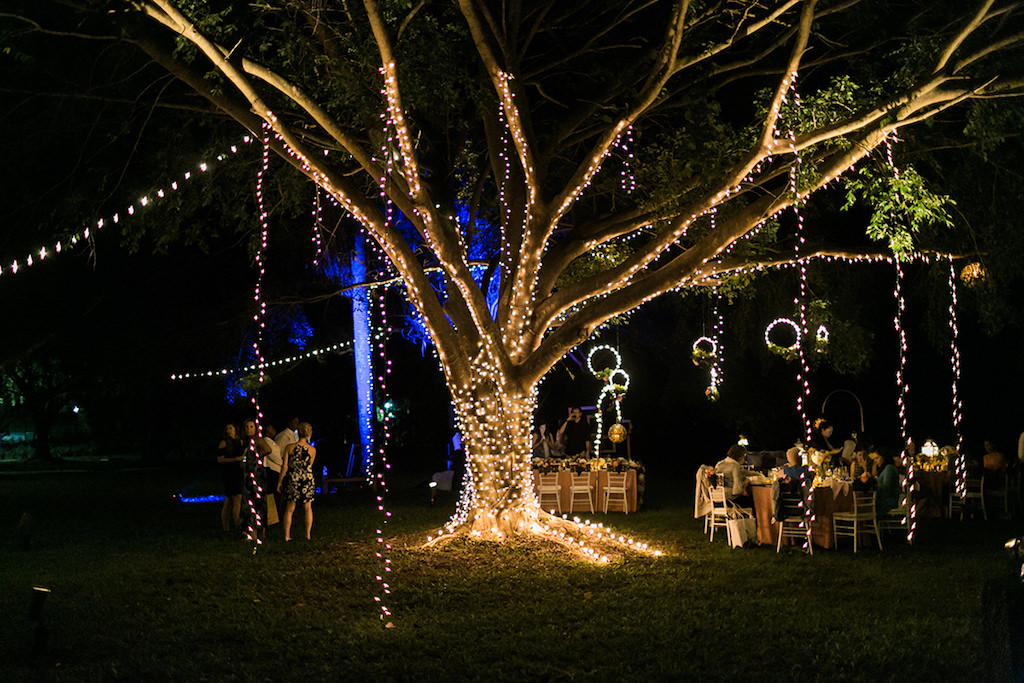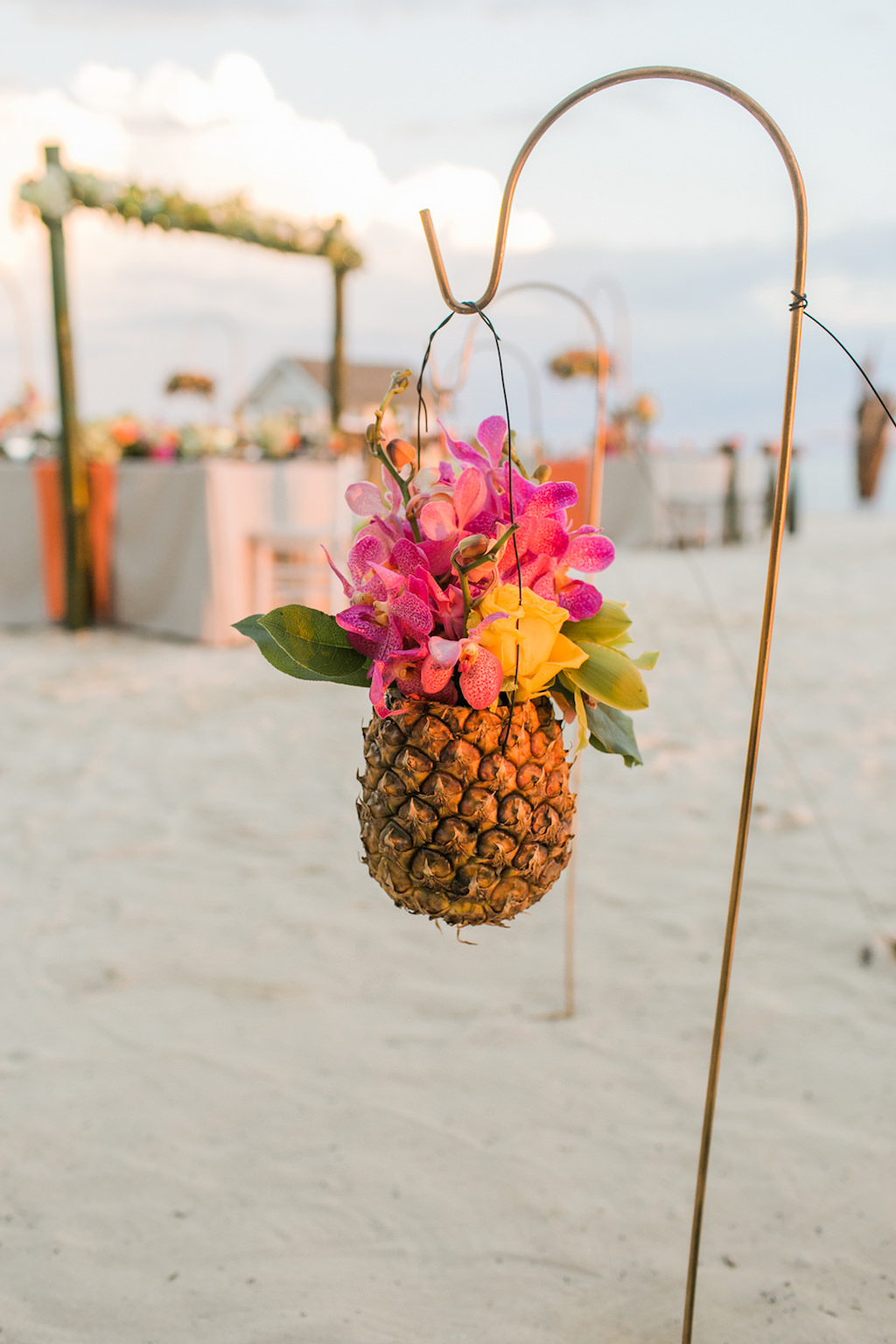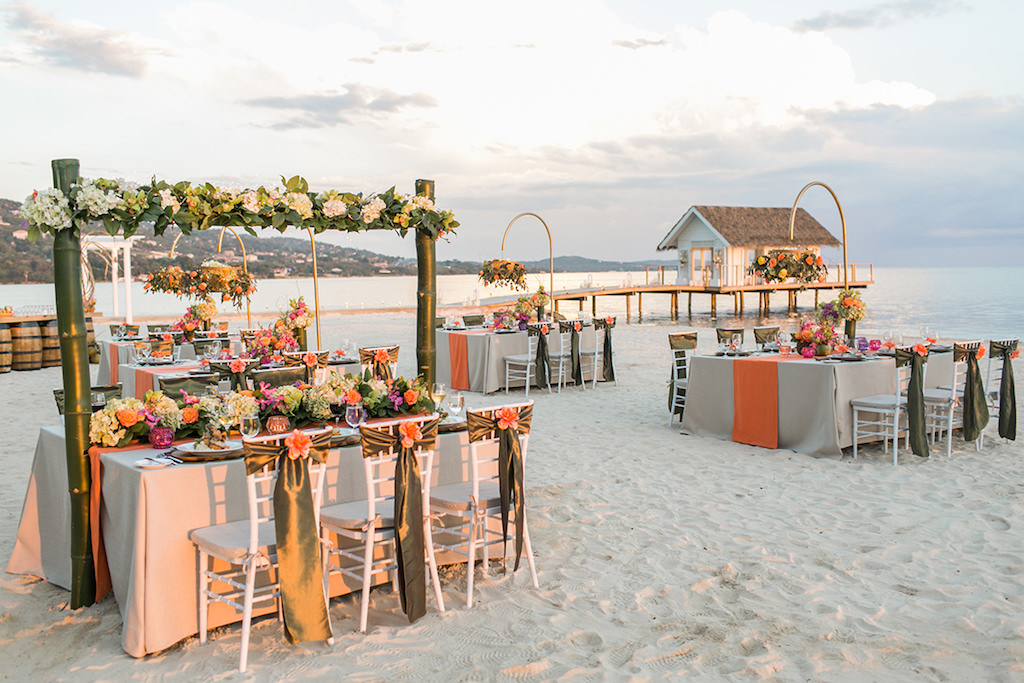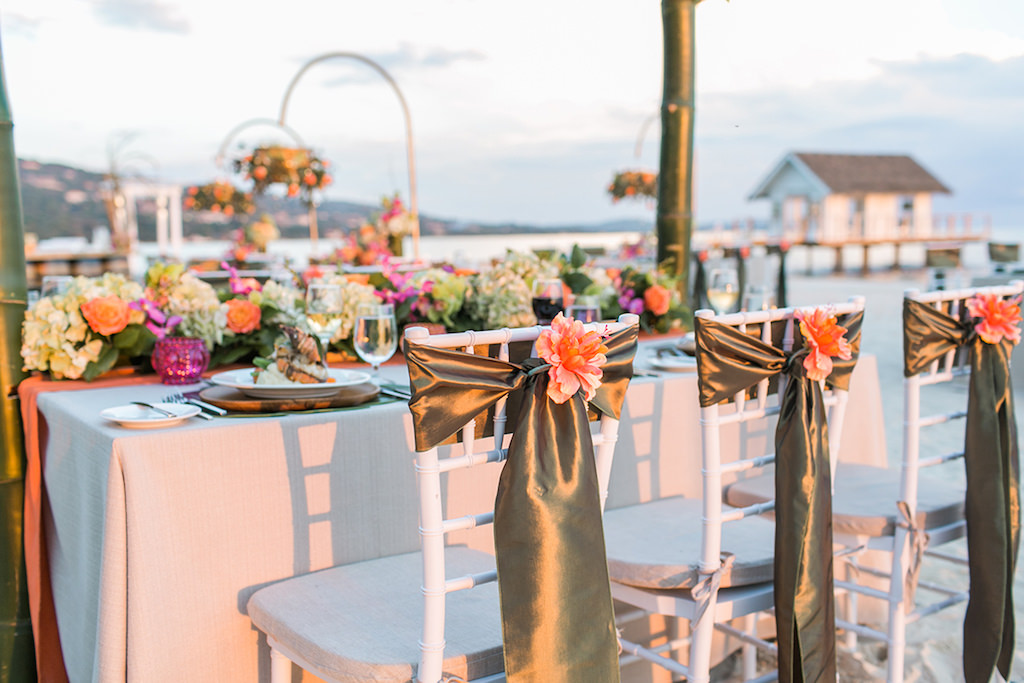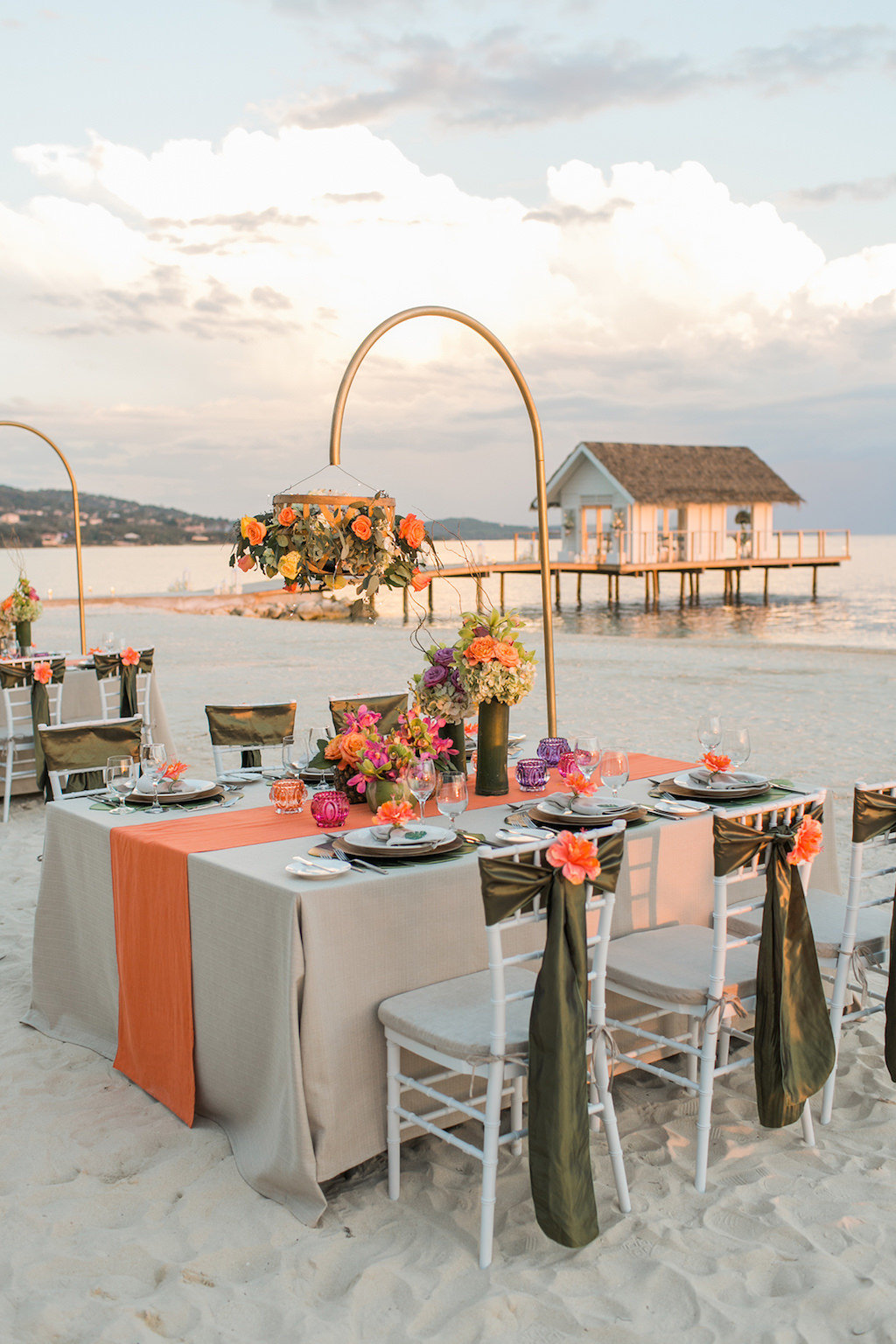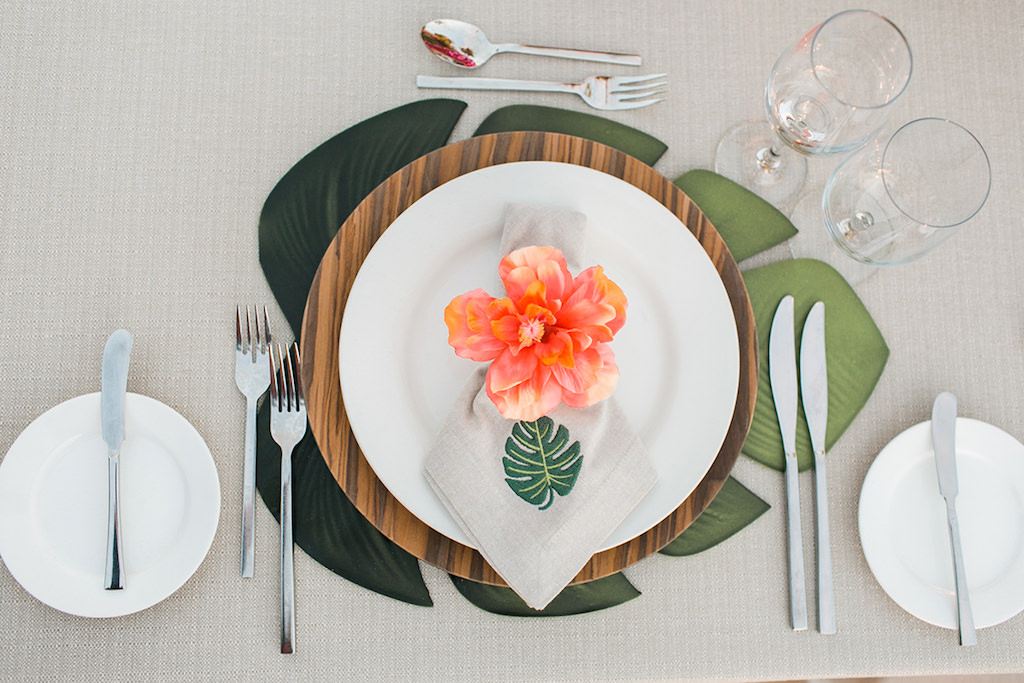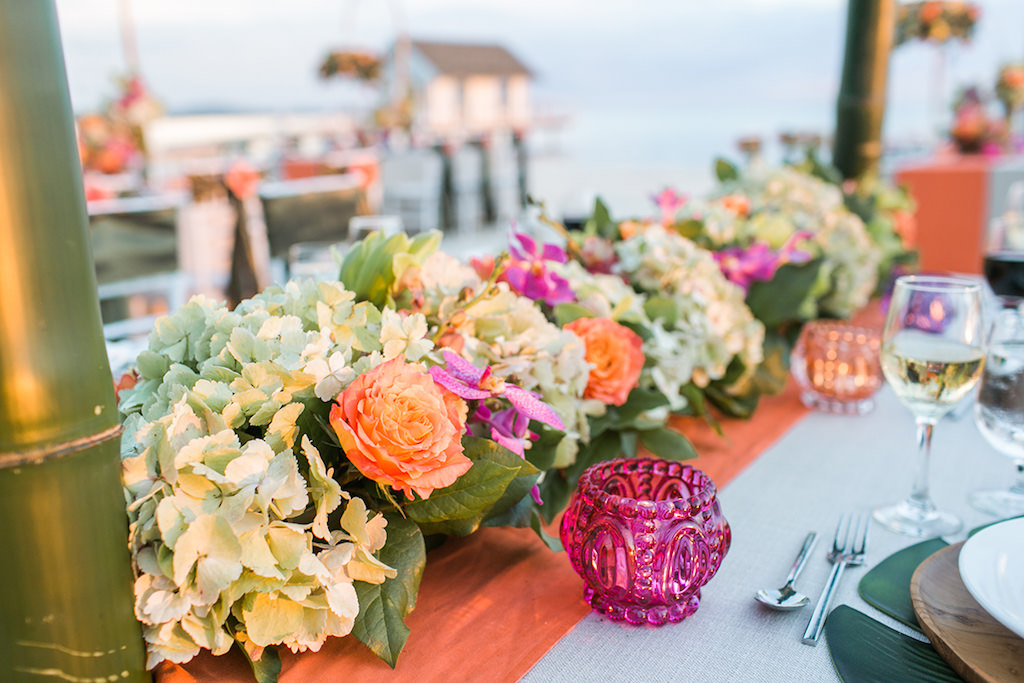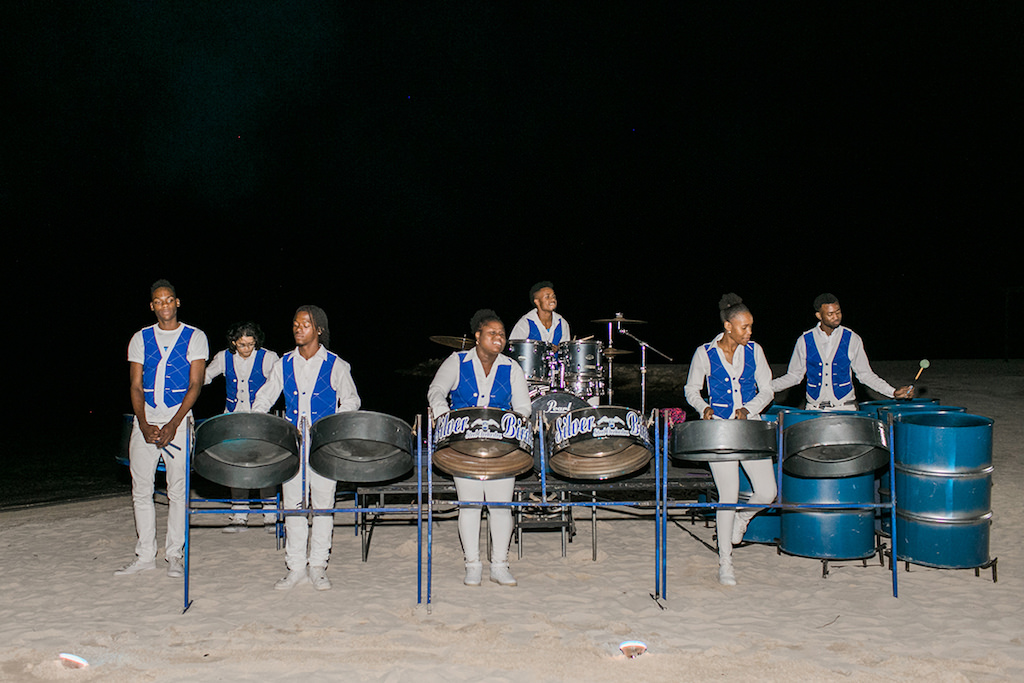 Perks for Sandals Couples
At most weddings, the more guests who attend, that's more money that comes out of your pocket, but with Sandals, the more guests who book at Sandals, the more perks you receive. For example, couples with 12 guest rooms will receive $1,000 towards a catamaran cruise, a room upgrade and a two-minute wedding trailer video.
Sandals couples are also given additional incentives for extending their time in paradise. Stay three or more nights and receive a Mokara orchid-inspired wedding that includes Mokara bouquet, boutonniere and cake topper. Stay six nights or longer and receive resort credits valued at more than $1,500.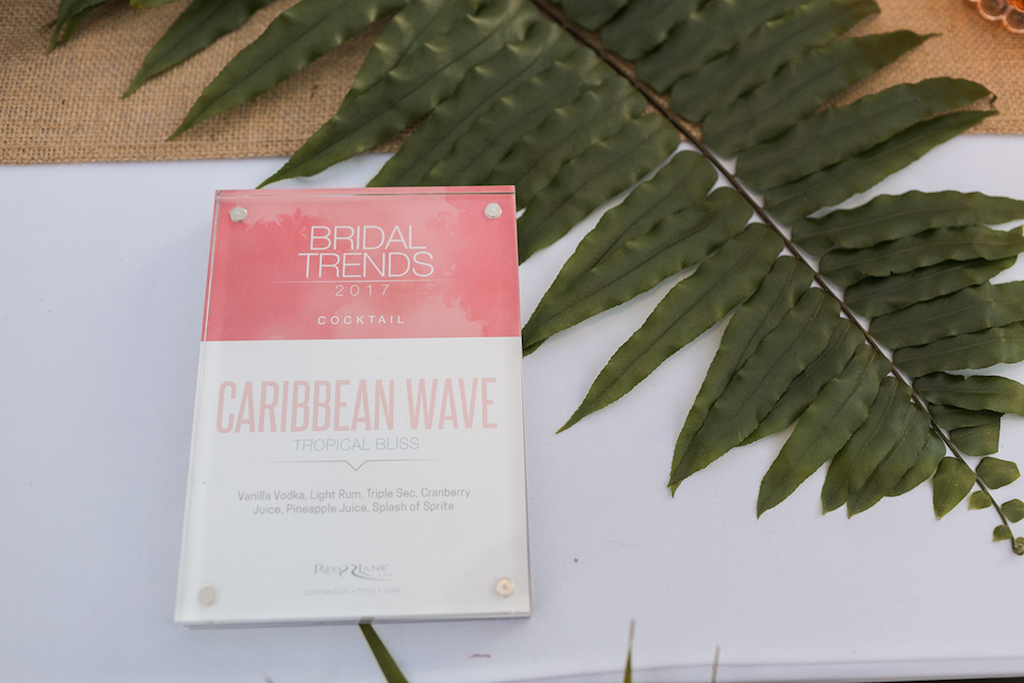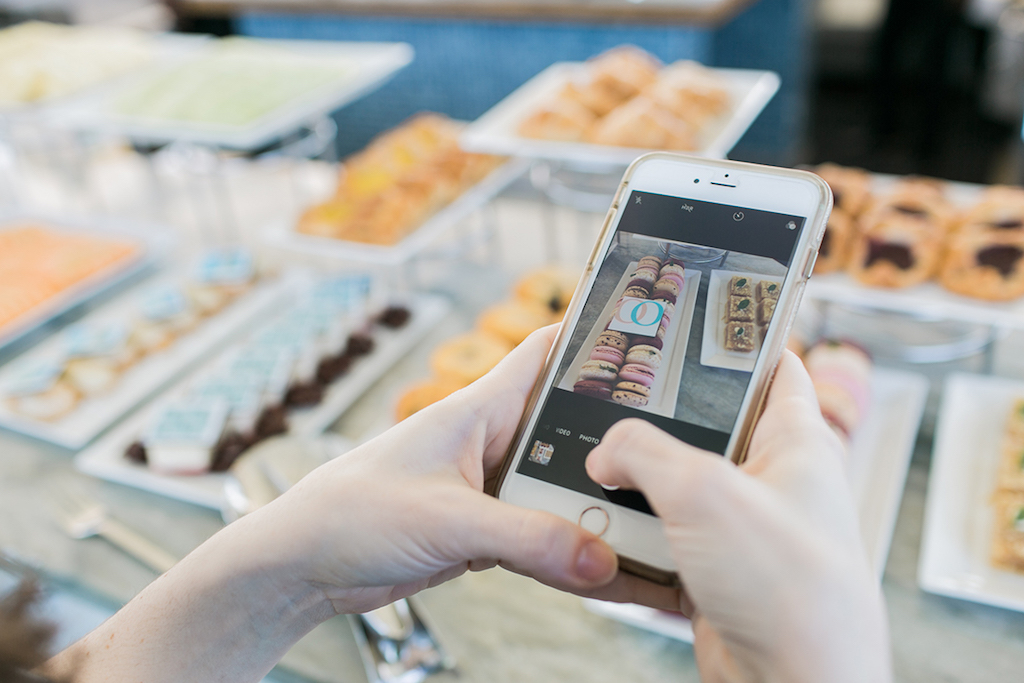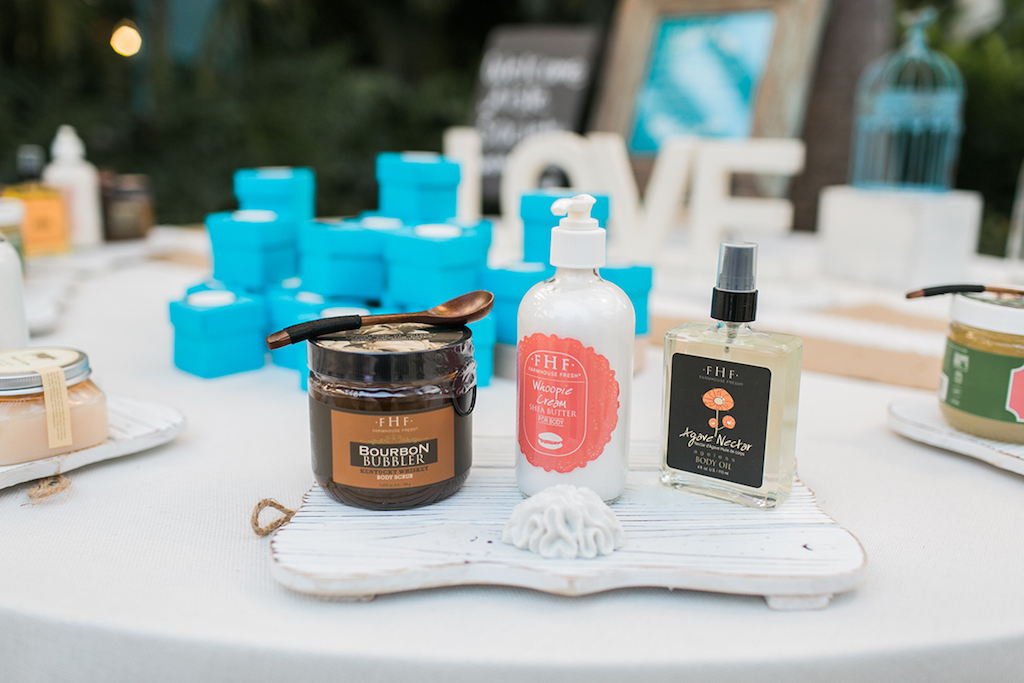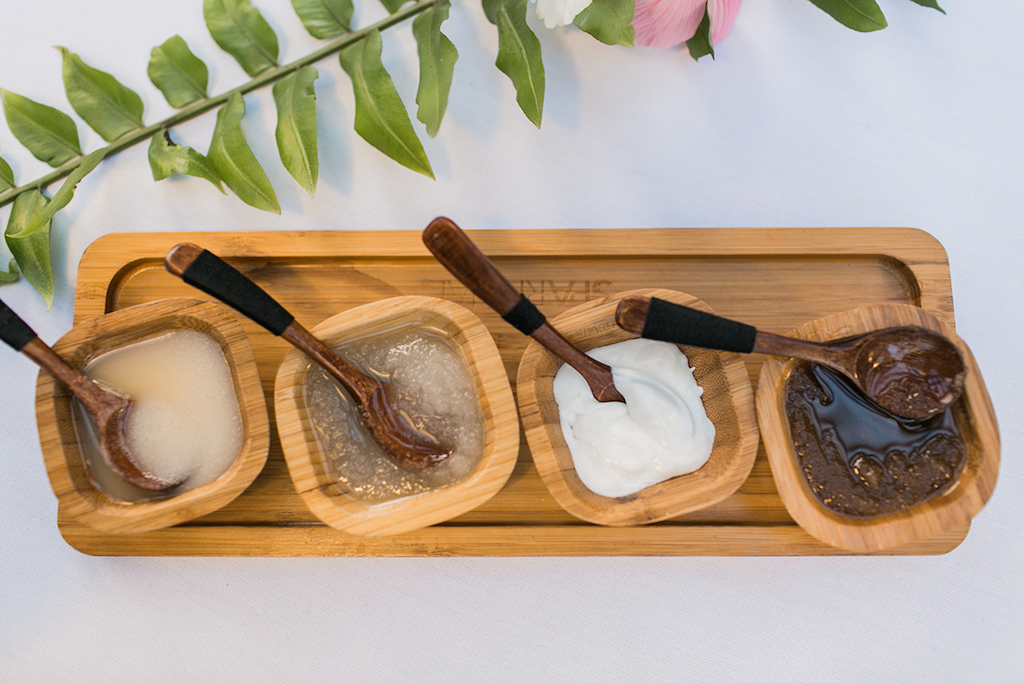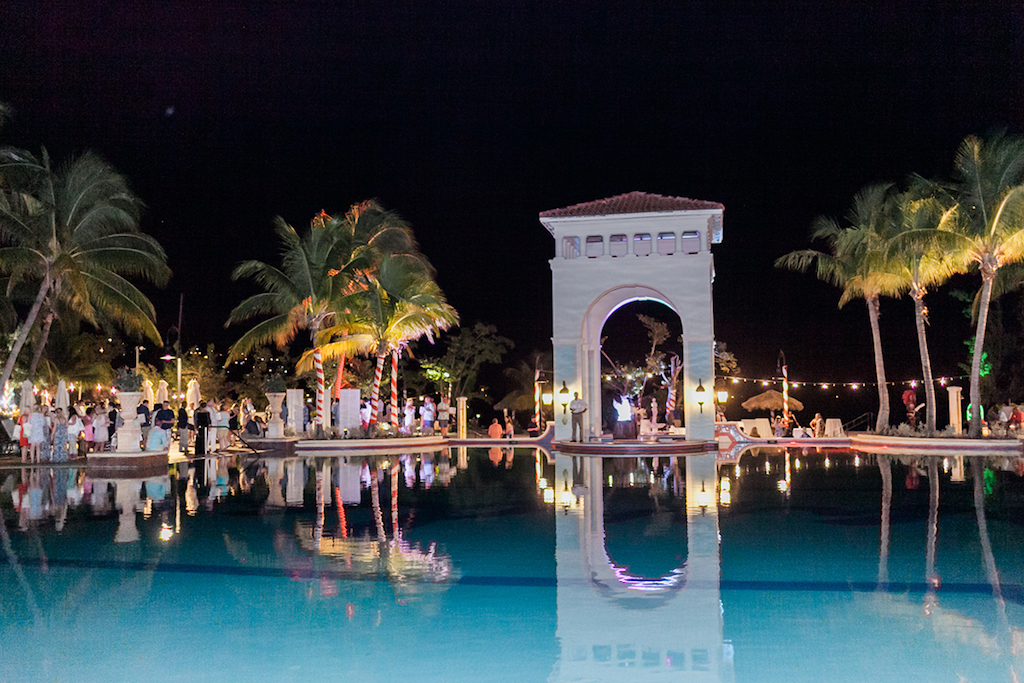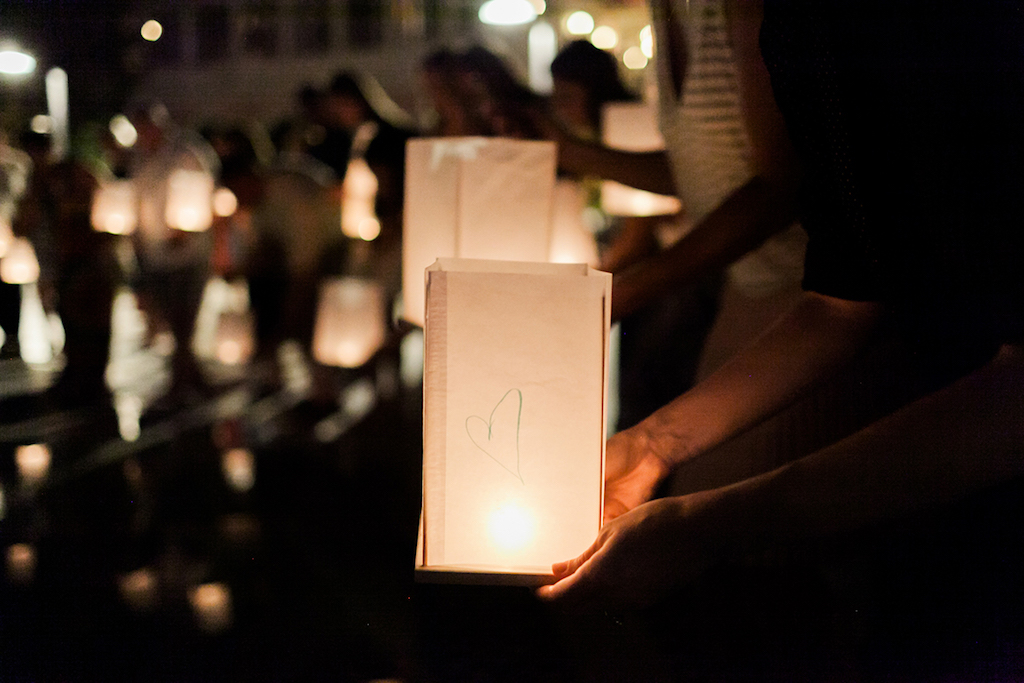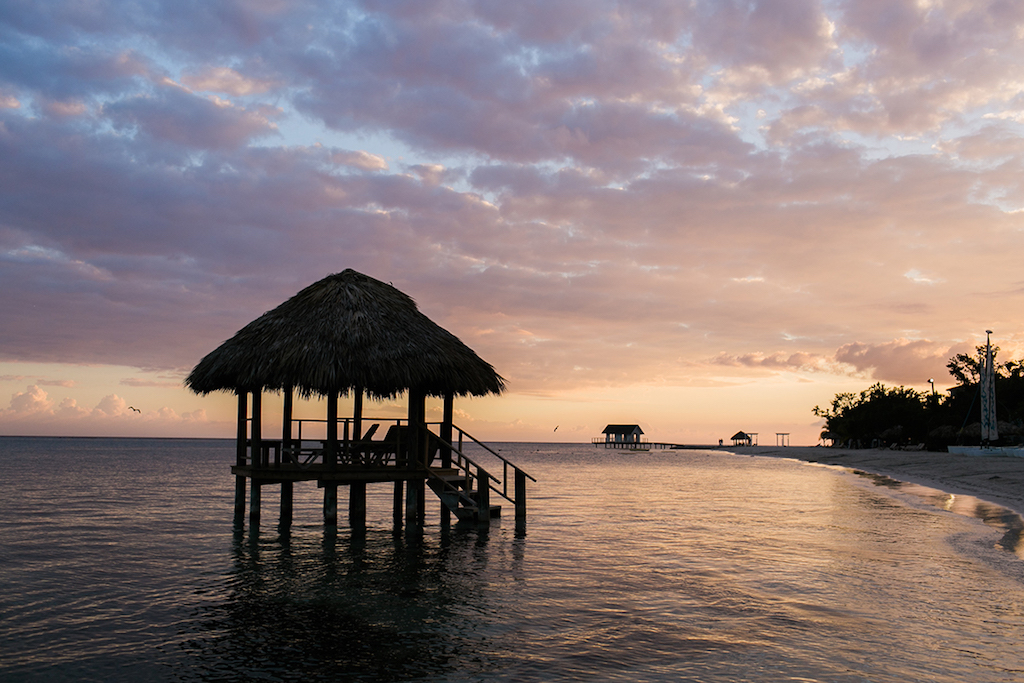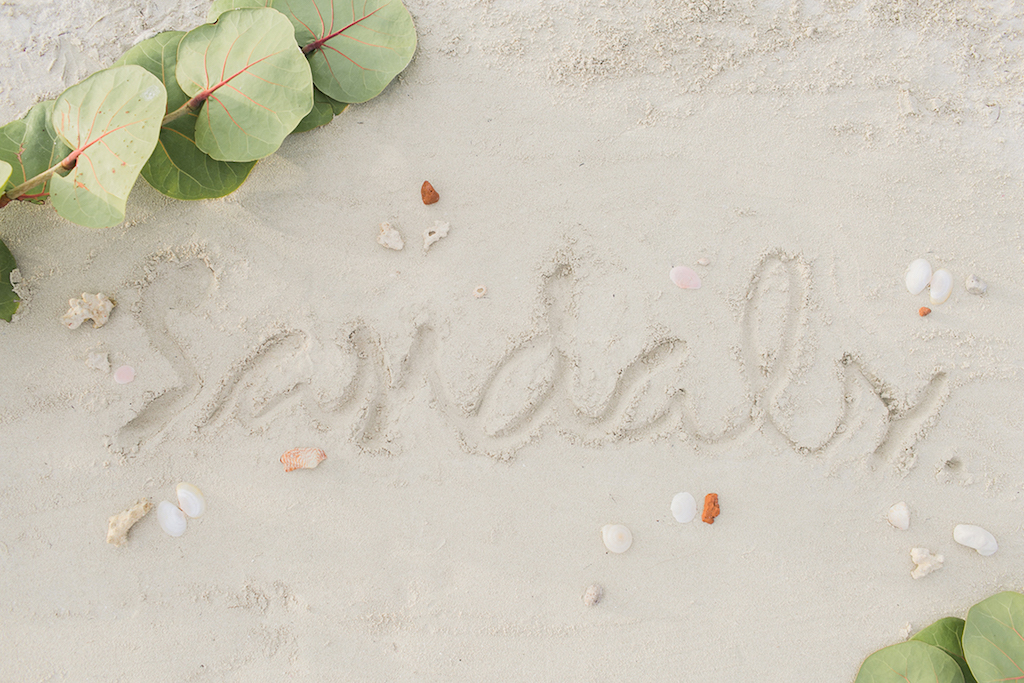 Resort: Sandals South Coast
Photography: Alexis June Weddings
Tote Bags: Sea Bags
Gifts: Curry's Leather, Mod Party, Oh Sugar! A Sweet Co., Sweet Water Décor, Burts Bees, Silver Lotus Designs, Adornlee, Eliza Gwendalyn, WaxSeals.com
Bridal Separates and Belt: Fabulous Frocks Bridal – Garnish and Frill
Live Recordings: View It Do It