Tampa – Wed where the ordinary makes way for the incredible, where immersive settings both inside and out pull from the flair of the culturally vibrant surrounding area. At Renaissance Tampa International Plaza Hotel, you'll experience personalized service from beginning to end, ensuring that planning is simple, and the results are simply incomparable. Will you exchange vows in Le Fuente Courtyard? Dance in the awe-inspiring Costa del Sol Ballroom? You decide, and we'll do the rest.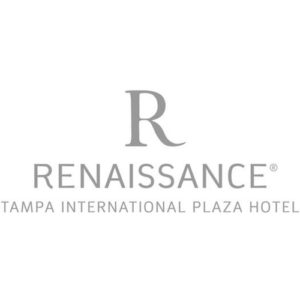 Maximum Capacity: 450 guests in banquet style, with a dance floor.
Waterfront: No
Outdoor Ceremony/Reception Space: Yes. La Fuente Courtyard and Pelagia Trattoria Patio
On-site Catering: Yes Wedding Menu
Off-site Catering: No
Extra special touches: Complimentary tasting after contract is signed.
What makes our wedding venue unique: Seasoned with the Cuban, Spanish and Italian influences that have defined Tampa's most iconic neighborhoods, Renaissance Tampa International Plaza Hotel offers thoughtfully appointed guest rooms, chef-crafted menus inspired by the vibrant local area and an engaging lobby bar, alive nightly with signature cocktail events. Just steps from upscale shopping at International Plaza & Bay Street, with internationally-acclaimed boutiques, professional make-up artists, lavish day spa and an expansive collection of casual, full-service and fine dining restaurants, Our boutique hotel offers creative sets in our unique indoor and outdoor spaces for the perfect backdrop to your long-awaited event.
Website | Facebook | Instagram
4200 Jim Walter Blvd, Tampa, Fl 33607
(813) 877-9200