What's better than sipping champagne and planning your wedding on a Sunday afternoon? Add in one of our favorite Tampa Bay wedding venues and fabulous door prizes, and you've got the perfect day!
Join Marry Me Tampa Bay at The Birchwood's September Soiree Bridal Show on Sunday, September 9th from Noon-3 p.m., featuring over 25 of the area's top wedding vendors, door prizes and a complimentary champagne social.
The downtown St. Pete boutique hotel and wedding venue features a rooftop terrace, stunning ballroom with gold chandeliers and amazing Tampa Bay water views.
Register before September 5th for chance to win a 2-night stay at The Birchwood.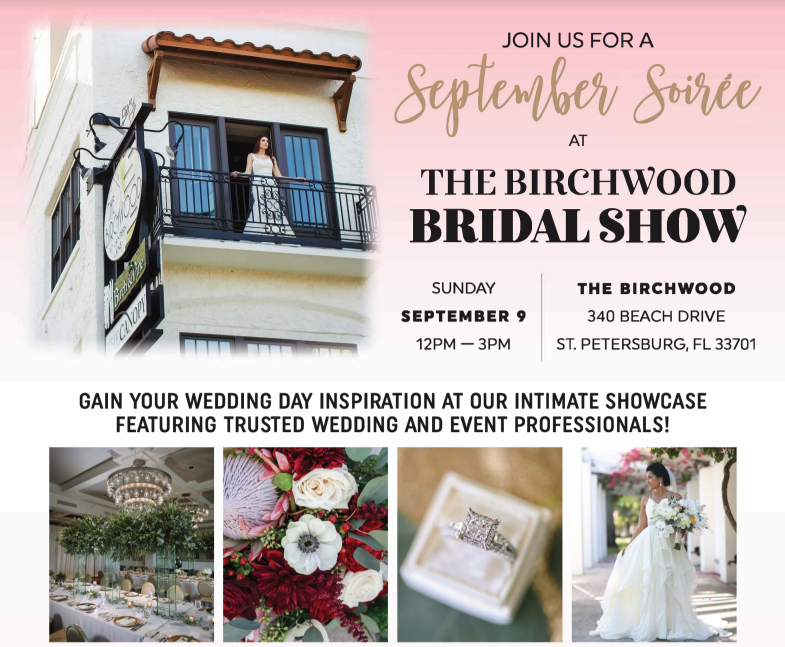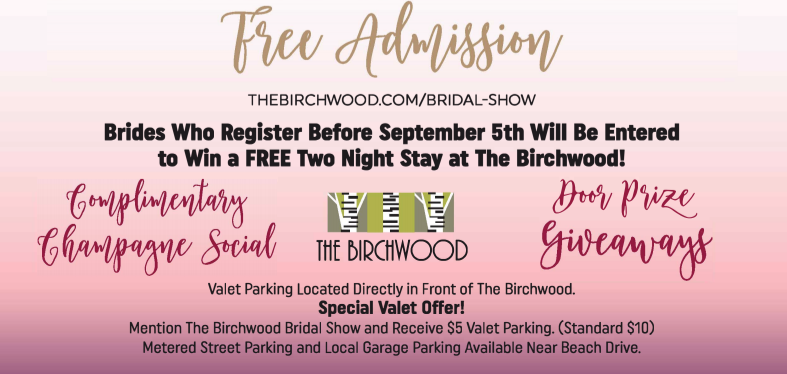 Valet parking is located directly in front of The Birchwood. Mention "The Birchwood Bridal Show" to receive $5 OFF the valet parking charge. Metered street parking and local garage parking is available along Beach Drive.
Sunday, September 9th, 2018
Noon- 3 p.m.
The Birchwood
340 Beach Dr NE, St. Petersburg, FL 33701
REGISTER FOR FREE TICKETS
Wedding Pros Attending:
Parties A La Carte
*Preferred Marry Me Tampa Bay Wedding Pro
Blue Skies Events
Chantilly Chic
Days Remembered
Iza's Flowers
Bruce Wayne Florals
Lemon Drops
2Birds Events
Lifelong Photography Studios
*Preferred Marry Me Tampa Bay Wedding Pro
Limelight Photography
Andi Diamond Photography
*Preferred Marry Me Tampa Bay Wedding Pro
Bonnie Newman Creative
*Preferred Marry Me Tampa Bay Wedding Pro
The Artistic Whisk
*Preferred Marry Me Tampa Bay Wedding Pro
Sweet Divas
Chantilly Cakes
Grant Hemond and Associates
*Preferred Marry Me Tampa Bay Wedding Pro
On the Move Productions
Michele Renee the Studio
*Preferred Marry Me Tampa Bay Wedding Pro
Destiny and Light
Hair and Makeup 
*Preferred Marry Me Tampa Bay Wedding Pro
Femme Akoi Beauty Studio
*Preferred Marry Me Tampa Bay Wedding Pro
LDM Beauty Group
*Preferred Marry Me Tampa Bay Wedding Pro
Southern Event Rentals
A Pic Above the Rest
PhotoStation Tampa Bay
The Birchwood
*Preferred Marry Me Tampa Bay Wedding Pro
Truly Forever Bridal
*Preferred Marry Me Tampa Bay Wedding Pro