Remember when wedding gowns were all about the pouf? Not anymore! Tampa wedding bridal shop Malindy Elene brings Tampa Bay brides the newest look straight from the runway!
The Fall 2013 bridal collections seen in New York this year were some of the most interesting and different I've seen yet! Designers really went past the classic princess ball gown and into a very ethereal and sweet feeling with their gowns. Each designer paid very special attention to the details in their collections. Not one stitch was out of place and not one appliqué was in the incorrect spot. It was one of the most couture seasons! Here are a few things we are seeing this year!
Lace, lace and more lace!
While lace is never going out of style in bridal, this season it was ALL ABOUT LACE! Designers were using it in classic ways (see Kate Middleton here!) or couture beaded appliqués. No matter how they used it, they used it…and in abundance!
Ivy and Aster "Posey"
Augusta Jones "Stella"
Robert Bullock "Talia"
Nicole Miller "JL0006"
Anne Barge "Victorie"
Bare Backs
I am so loving this trend! I mean, let's face it, your guests will be seeing your back quite a bit during your wedding: while you are standing at the alter, while you dance around…it's pretty important!
I love that designers have factored this in and have decided to make the back of bridal just as interesting as the front! The key to this trend is to get a quality dress with a good fit and a good tailor. These dresses often come with less support than other gowns so factor that into your decision!
Anne Barge "Cosette"
Ivy and Aster "Sunflower"
Nicole Miller "GM0004"
Anne Barge Blue Willow Collection "Juniper"
Reem Acra "She's Every Dream"
Long Sheer Sleeves
Ahh yes… we can all stop and thank Kate Middleton for this one! Sleeves are back ladies! And out in full force! Whether beaded, embroidered, full of lace or just sheer… it looks like this could be here to stay! The more detailed the sleeve, the better.  Try something with very light beading or sheer, soft lace to be most on-trend.  Not sure about the full sleeve? Try just three-quarter sleeves that stop at the elbow.
Reem Acra "Alluring Beauty"
Nicole Miller "Pippa"
Badgley Mischka "Aphrodite"
Augusta Jones "Macy"
Tulle
We saw tulle in just about every way possible.  It was in the traditional full skirt, it was used as an overlay, it was used as an illusion top, and it was used in roughing! Phew… it was everything! Staying with the light, soft trend for this season, tulle stayed with us through every collection!'
Anne Barge "Aimee"
Robert Bullock "Natasha"
Anne Barge "Sylvie"
Reem Acra Fall 2013 Collection
Anne Barge Blue Willow Collection "Anja"
Reem Acra Fall 2013 Collection
Very Detailed Embroidery and Embellishment
This season it was ALL about the small stuff; details galore were piled onto every single dress!  The beadwork and embroidery were perfectly swoon-worthy. There was everything from a small twinkle in the beaded top, to a full mass of crystals. I don't hate any of it!
Badgley Mischka "Pisces"
Reem Acra
Reem Acra Fall 2013 Collection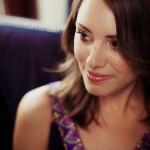 Megan Bubalo began managing Malindy Elene previously located on Central Avenue in St. Petersburg and shortly after the prior owner gave Megan her business with the hopes of growing the company.  Recently, Megan moved the company to it's new South Tampa location.  Megan's knowledge of the bridal gown industry, studies in fashion and hand selecting each bridal gown in her store during trips to New York Market, give you the personal experience all bride's dream of.  Megan has kept the sweet moments in tact of the old Malindy Elene: you still can sip champagne while having the entire store to enjoy with only your family and friends and you can customize ANY dress in the store to make it your own.  She has expanded their bridal selection and also includes accessories, veils, bridesmaid dresses and even Spanx!
Almost everything in the store is 100% silk and made somewhere in America, keeping the quality the highest in Tampa. Come see designers you would see on the red carpet at Malindy Elene: Reem Acra, Badgley Mischka, Anne Barge, Nicole Miller and more!
Megan's favorite thing about being in bridal? The relationships. At her boutique, you are not a number. "We know every girl by name and talk with them throughout the entire shopping and planning process! We love being a part of their wedding day and realize this is not just a dress to our brides, it is THE dress." says Megan.