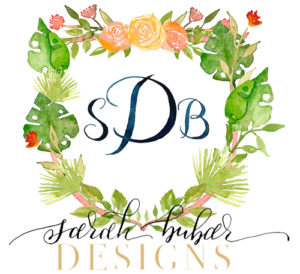 Sarah Bubar Designs is an art-based company which specializes in original watercolor art, stationery, and wedding stationery design. Owned and operated by watercolor artist Sarah Bubar, we seek to provide our clients with highest quality stationery products and artwork that are a reflection their personal style and preferences.
Website | Facebook | Instagram
(727) 389-2489
I Want to Learn More about Stationery and Invitations From Sarah Bubar Designs
My personality is:
I'm pretty sure I have an undiagnosed personality schizophrenia because I generally am a laid back person, but, at times, I can be fairly intense and focused to get stuff DONE when I'm on a roll. I love people and hearing their stories, but I could totally go on a cruise by myself and LOVE it! I love being challenged and think outside the box.
I provide the following paper goods & services:
I specialize in wedding invitation suites and day-of stationery and signage. I can also do any sort of calligraphy or decor that has writing on it.
I provide the following styles:
When it comes to styles, I would say I'm eclectic and varied based on the needs of my brides. If you're looking for whimsical and romantic, I can do it. Clean and modern? I can do that do. Bright and eye-catching? Bring it on! I always say that "I like to make your invitation dreams come true." So, pull out your Pinterest board and let's talk!
I love wedding invitations & stationery because:
Honestly, it's the brides! I love their stories! And I LOVE when their guests gush over their invitations when they arrive. I want the guests to be as excited about this celebration as the bride and groom are! That's always my goal. I love adding little bells and whistles to a bride's suite. (Like the back of the invitation! We've already bought the paper; we might as well use the back for a little extra something to wow your guests!)
My pricing:
Because everything is so customizable, prices vary.
You'll receive your invitations:
You'll receive your invitations within 4-5 weeks from your initial deposit. I generally like to book at least 6 months from the wedding date, depending on what all you'd like added to your package (save the dates, response cards, inserts, details, menu, etc) and the volume of my calendar. Once a contract is signed (where the timeline will be set, deposits are made), the fun of designing begins. It takes about 4-5 weeks to go from paint to delivery.
I love hand delivery invitation suites the most at the end of a project, because I love seeing the bride's face when she's TOUCHING her invitation for the first time. Before then, she's only ever seen digital copies and screenshots of what it will be like. But the look on her face when she sees them for the first time in person never gets old. It's the best! …That said, if you live too far from me, I can mail them!
I pride ourselves on:
Here, at Sarah Bubar Designs, we pride ourselves on our customer relationship. We work hard at creating a product that is exactly what the bride has in mind for her wedding stationery. In order to do that, our clients become like friends, communicating all throughout the design process so we can get every aspect exactly right!
Featured Sarah Bubar Designs Weddings on Marry Me Tampa Bay: