We have the capacity to plan, design and manage/coordinate weddings of all sizes. We can work with all guest counts – small and large, and we can customize our packages to fulfill the unique needs of intimate weddings.
We love planning intimate weddings because:
We appreciate planning intimate weddings because it allows us to include a level of detail that you can't achieve with a wedding of well over 100 guests.
Our intimate wedding planning style is:
Our style is your style! Whether it's rustic-country, sleek-modern, or jaw-dropping glam, we can do it all and do it well! We also love it when our clients bring us UNIQUE inspiration – photos from a recent trip to Italy, your grandmother's vintage jewelry, or a beautiful fabric that you came across. No problem! We can translate it into a beautiful and fun wedding for you and your guests.
Our personality is:
We are fun and we want our clients to have fun with the wedding planning process! You are planning one of the most important celebrations of your life, if you're not having fun, then you are NOT doing it right.
What makes our business stand out from other intimate planners is:
We are not your typical, "clipboard in hand" wedding planners. We are designers, (educated and experienced)! Both myself and my associate have degrees in design and have experience in multiple different avenues of design – set design, retail design, hospitality design, residential design, etc. We have the ability to find inspiration, compile a design concept, and organize all of the vendors to make the event detailed and cohesive.
The experience we offer our clients is:
We understand that no matter the size – your wedding deserves the attention and detail that it deserves. We deliver this and more. We make the planning process enjoyable and fun and focused on you and your guests.
The types of services we offer are:
We offer Full Service, which covers all aspects of the Planning, Design and Execution of the wedding. If you are looking for more individualized services, that would be part of our Boutique-style services, which focus on a single aspect or multiple smaller aspects of the wedding planning process – Partial Planning, Design and/or Day of Coordination.
Our intimate wedding package pricing:
We customize our package and pricing to respond to the specifics of each event.
Our associations/awards:
Member of the Association of Bridal Consultants – Member of the National Association of Catering & Events – Awarded National Association of Catering & Events Wedding of the Year – Awarded National Association of Catering & Events Program of the Year – Awarded National Association of Catering & Events Rising Star Award – Awarded Wedding Wire Couple's Choice Award – Awarded Tampa Bay Business Journal Best in the Biz Favorite Event Planner – Rated City Voter Tampa A-List – Top Wedding Planners in Tampa Bay – Awarded The Knot Best of Weddings – Wedding Planner Magazine Contributor We also have been published in numerous online and print publications, such as: – Style Me Pretty – Trendy Bride Magazine – Wedding Wire – Occasions Magazine – Every Last Detail – Offbeat Bride – The Knot Magazine – Marry Me Tampa Bay, of course
---
Intimate Planner: UNIQUE Weddings + Events Reviews from Marry Me Tampa Bay Couples:
Marry Me Tampa Bay curates the below reviews from real couples whom we've personally interviewed. As Tampa Bay's most trusted wedding planning resource, these reviews are 100% accurate and aren't created by fake accounts.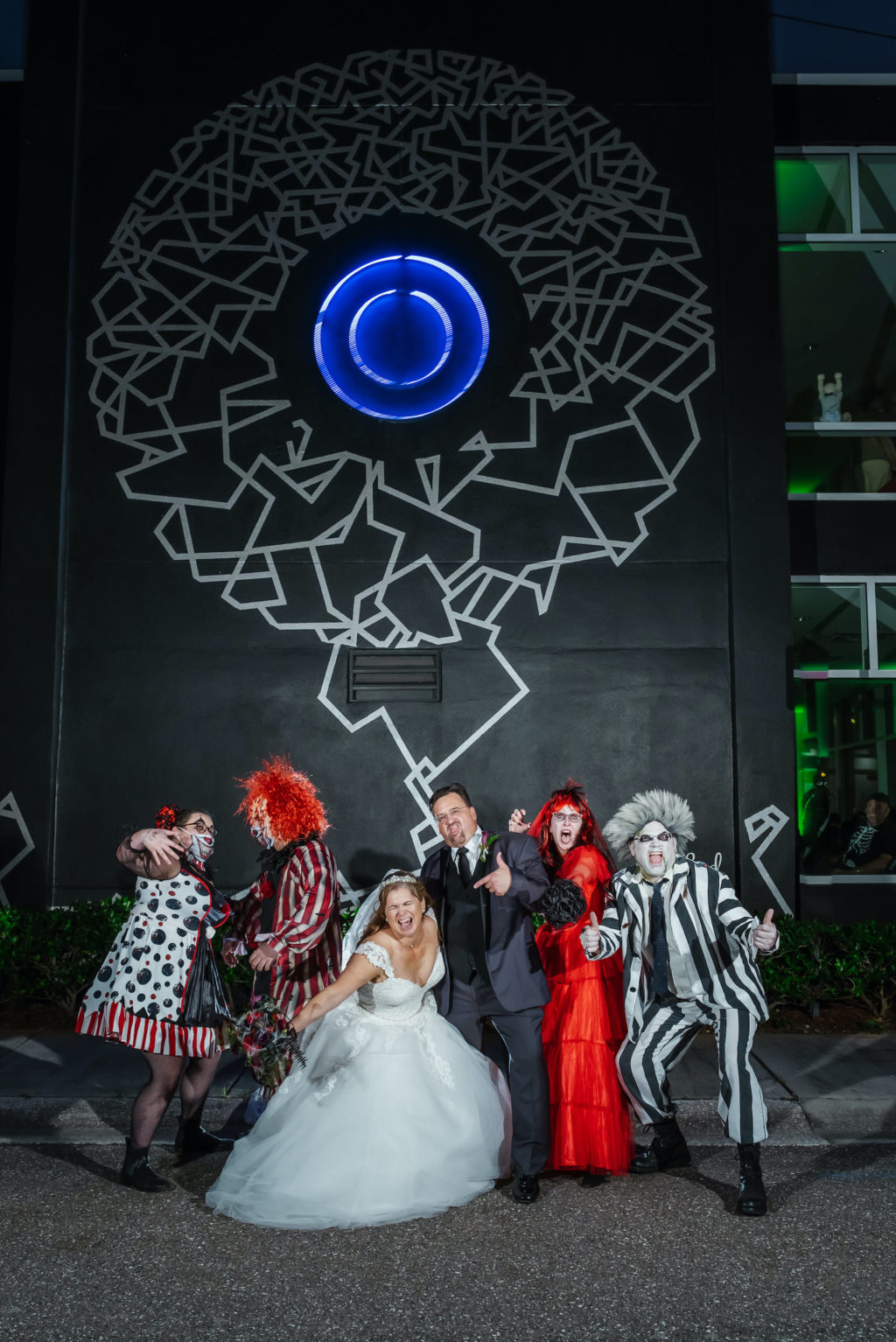 My most important decision was contracting with the right wedding planner. I looked for someone who could take my feelings of what I wanted our guests to experience, along with my own ideas, then build upon that.
Who else would we hire for such a unique wedding but UNIQUE Weddings + Events? I think Staci was more excited than myself to plan the event. We let her know that I'm terrified of clowns, and Mark hates 'life-like' dolls, and she had free will to incorporate them into the event. She listened to what I wanted to achieve and made it happen. From the types of entertainment to actual furniture rental and carefully chosen vendors, her execution was absolutely impeccable!
Staci was absolutely exceptional. She worked with me to give everyone an event that is still being talked about weeks later! Staci came up with an idea to have "Thing" from The Addams Family deliver our rings to us at the altar. I loved such a quirky idea (we had no wedding party)! She knew all the right vendors for a Halloween wedding and things I had not thought of, such as photography. Not all photographers are skilled in low light, and she knew what companies would be able to capture it the best. There was not one thing that was forgotten or overlooked thanks to her. She even went as far as to decorate the bathrooms. Our favorite, by far, was her finding the flash zombie mob. They performed to "Thriller" twice, once for all of us to watch, and then again later in the night for us to join in. The zombies then interacted with all the guests and even the props! It was hilarious! Best of all, the monies paid to the zombies is donated to charity. I am truly lucky to have been able to work with Staci. She has given me, our family and friends a wonderful memory surrounding our favorite holiday!
-Debbie and Mark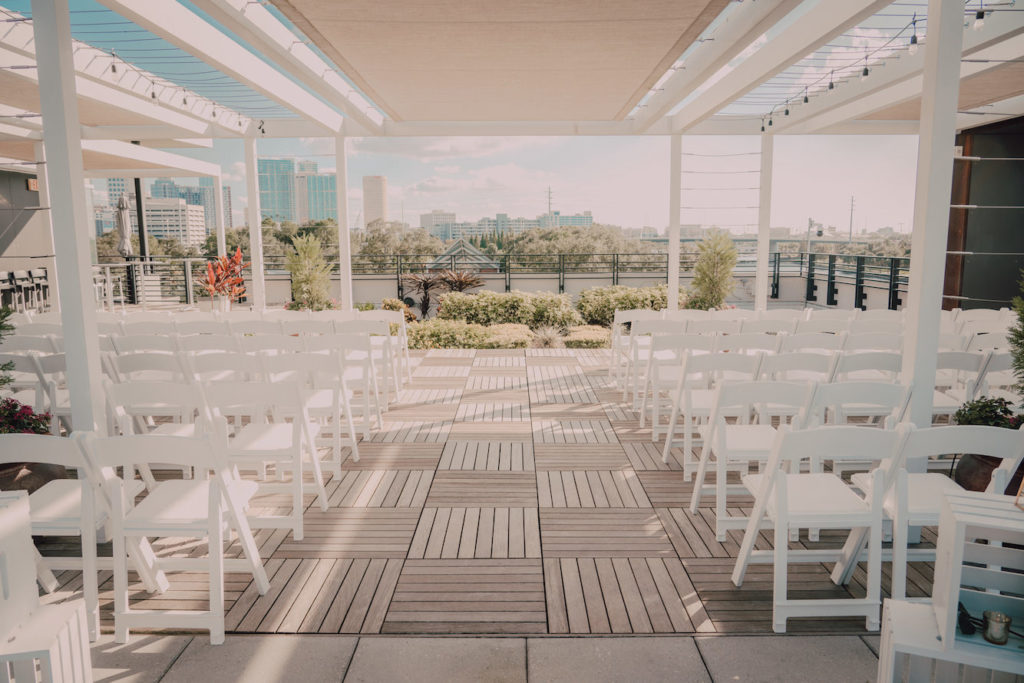 Staci at UNIQUE Weddings + Events made sure that the day went off without a hitch (or at least I didn't know that anything went wrong!). I am so happy that someone else could handle communication and keep the wedding day on track so that I could just enjoy the day! Staci held a budget meeting with me where she went over the contracts and wedding plans to help save money and afford the things that were important to us.
-Mariah and Nathan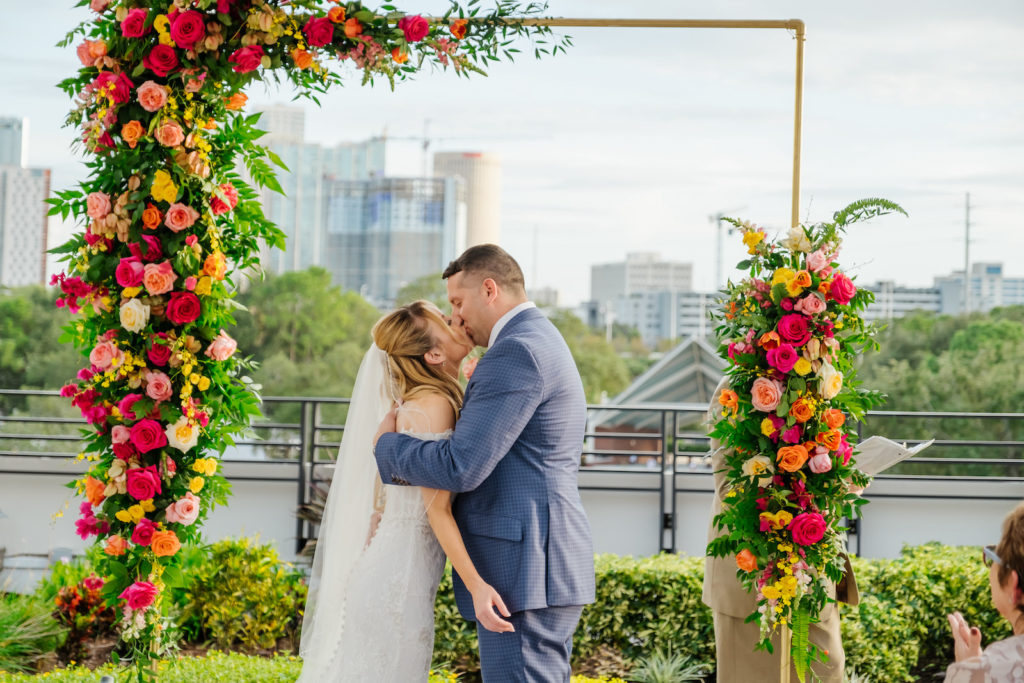 Someone who was easy to work with and had a fun personality.
Staci from UNIQUE Weddings + Events really held our hand through the whole process. She provided 5-star service. We could not have worked with a better wedding planner. I loved working with her!
-Shannon and Jeff
---
As Seen on Marry Me Tampa Bay