"We hired the Yacht Starship because we wanted something different, and the fact that we can say we had a yacht wedding is just plain cool," the bride gushed. "Not only was it a venue unlike any other, but the overall experience was what made everything that much more unique! I'd say we got a lot of bang for our buck with an amazing wedding coordinator and a team who really knew what they were doing."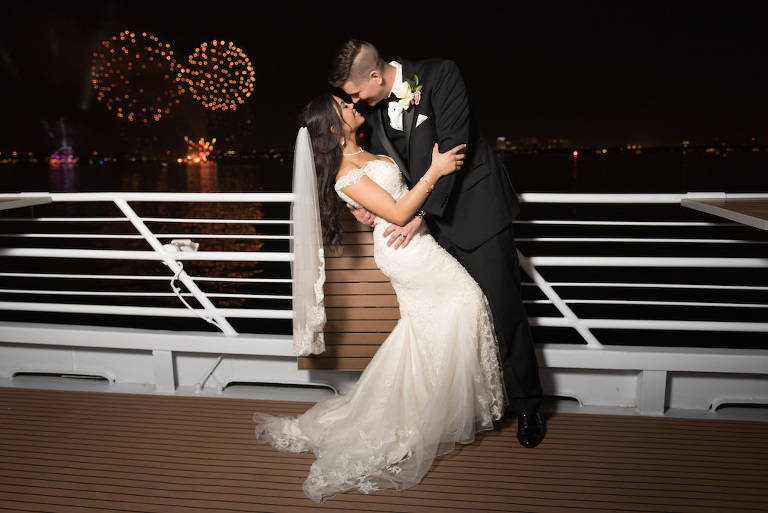 "We found the Yacht Starship on Marry Me Tampa Bay and loved it from our first meeting. Their staff was incredibly kind and accommodating to our requests. They helped us through the whole process step by step, which was very important to us because the whole wedding planning process can be overwhelming, and we are both very busy."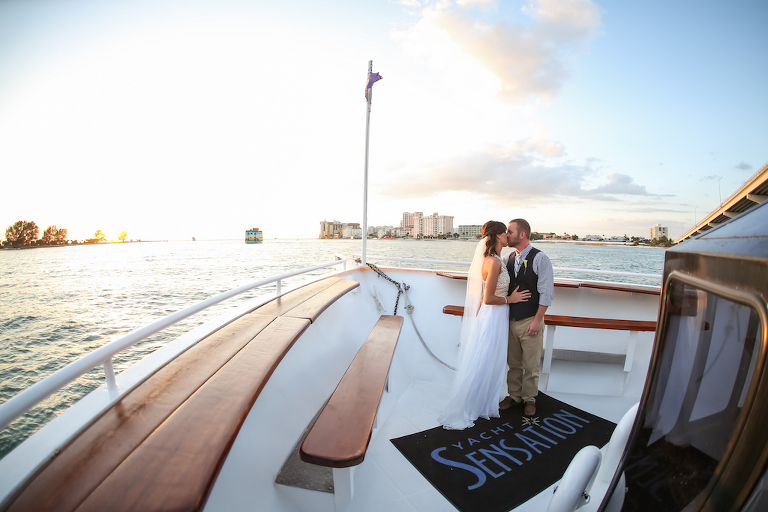 "The Yacht Starship was the perfect venue for our wedding! We had a private ceremony with our closest friends and family and offered them an experience they had not had before. Our guests were thrilled with the sunset dinner cruise, and we loved being able to watch them enjoy their evening on the cruise with us."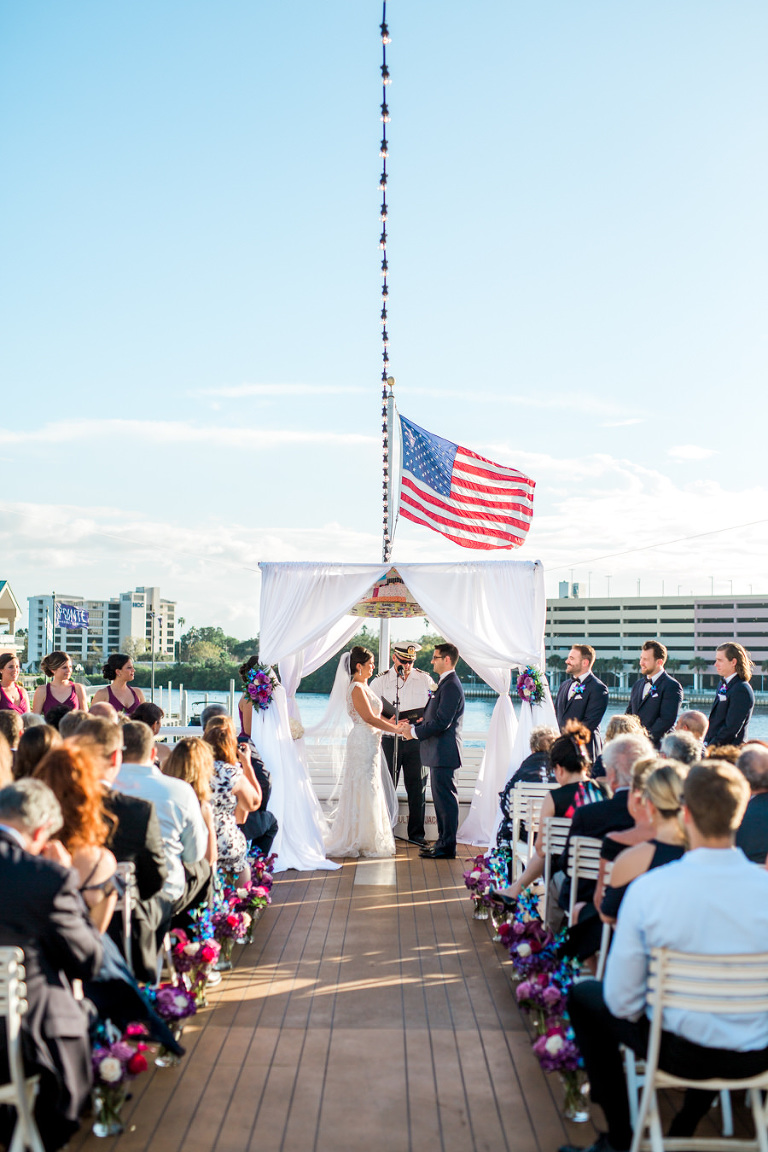 "We decided to go with The Yacht Starship because it was outdoor and on the water. Being on a yacht and sailing around Tampa Bay made it memorable and unique for not only us, but all of our guests.We also liked that most things were included: ceremony/reception in one place, food and drinks, a DJ, a coordinator and setup/cleanup. The service of the Yacht was impeccable! The coordinator Christine was quick to respond and all of our wants and needs. During the ceremony and reception, the level of service exceeded our expectations. There were plenty of staff to accommodate any needs. The Yacht was responsive and attentive from the time we booked until the end of the wedding. Service was quick and all of our guests commented on how delicious the food was and how friendly the staff was."
After touring the the Yacht StarShip one date night, we fell in love with the ambiance and with the concept of celebrating our marriage on the water. Breaking away for a sunset photo on the Yacht was surreal. Go with an all-inclusive service like the Yacht Starship! It made our lives so much easier and they were able to take care of so many things. The food, staff and service were absolutely amazing. We couldn't have asked for a better experience from the planning to the actual reception.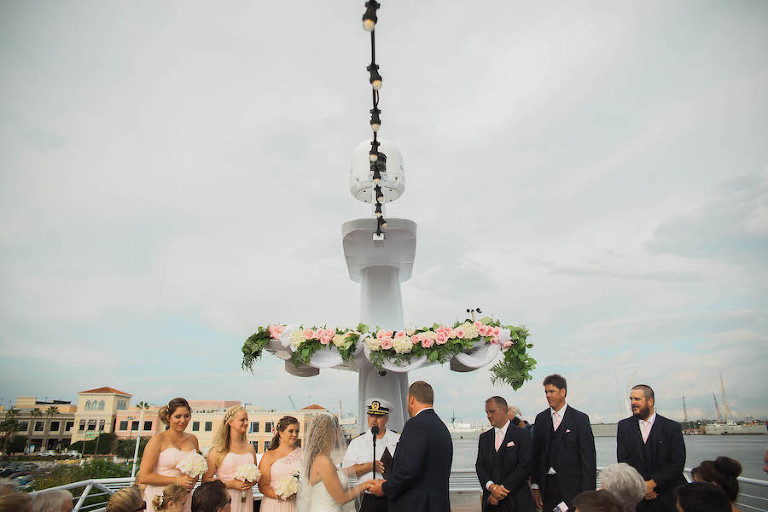 "The Yacht StarShip gave us the open Florida feel, but provided an air-conditioned space for comfort. We wanted something unique to give our guests a night to remember. They were fabulous! They made us feel like they truly wanted us there and were extremely accommodating to every idea we wanted to incorporate. We could not have picked a better venue. We got personal attention, amazing food, and an outstanding experience."
I want to learn more about weddings on the Yacht StarShip.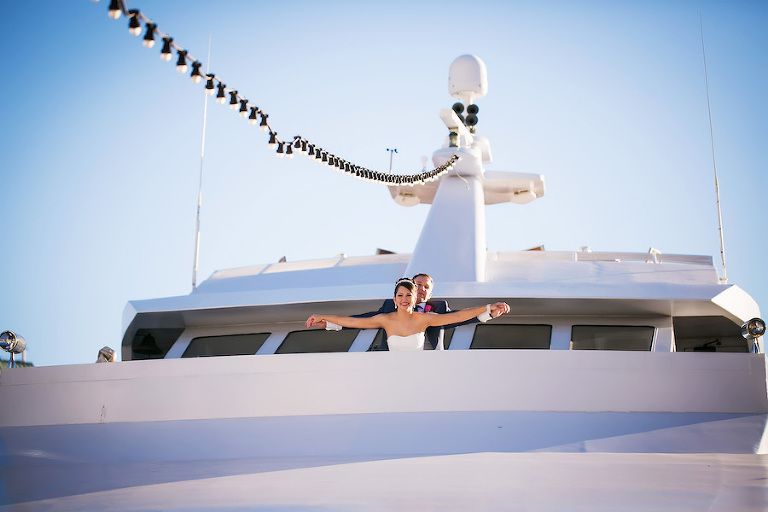 "We were looking for something unique and affordable. The Yacht StarShip was awesome because we cruised around Tampa Bay, saw a beautiful sunset, enjoyed a great dinner and danced the night away. We loved the views! The experience was awesome, and the service was 5-star. The venue was our most important thing, and we loved the Yacht StarShip."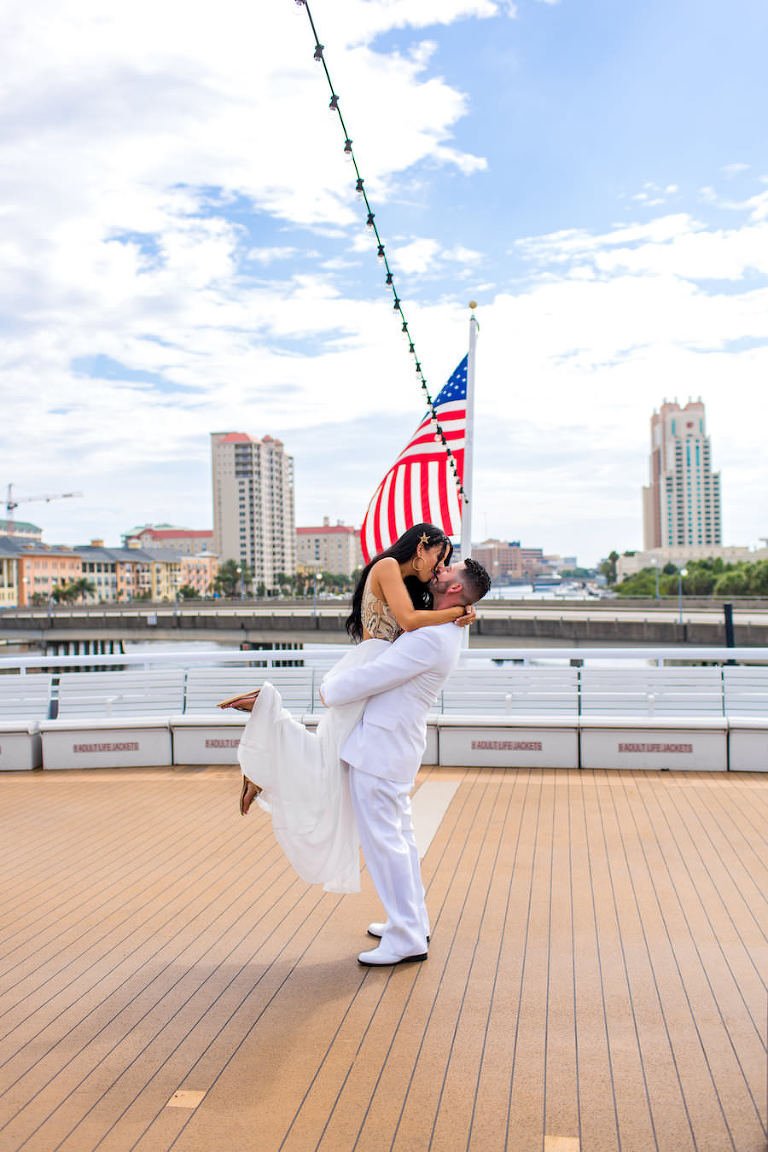 "The Yacht Starship was amazing! Our reception window views were constantly changing as we coasted through the gorgeous Tampa Bay. They included a wedding coordinator, and it made the wedding planning that much more easy breezy. I loved that I did not have to hire separate vendors for food, drinks, chairs and tables. [Their staff was] super nice to work with. They cooked up a delicious "Taste of Tampa" feast. I wouldn't have changed a thing."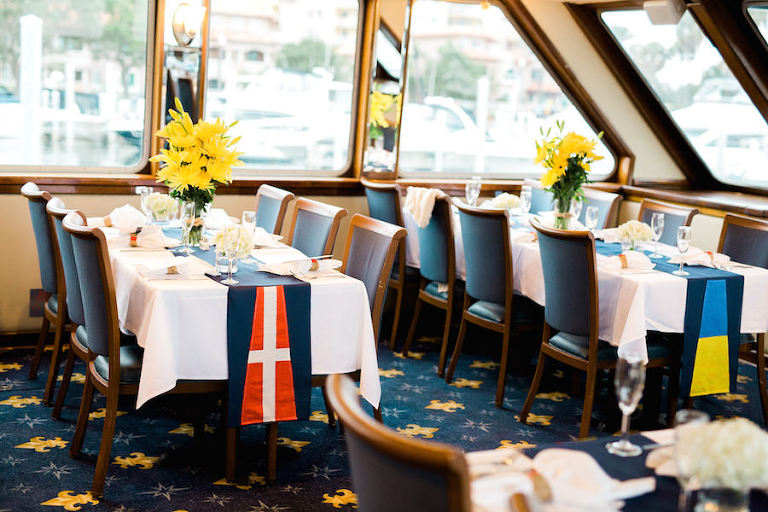 "The Yacht StarShip checked all of our boxes. We were especially impressed with how open they were to host our wedding. The customer service was amazing; they took an interest in us as soon as we walked in to tour the boat. Other venues did not show us the same interest or excitement as Yacht Starship. We felt comfortable from the minute we walked in. Thanks to Wendy and Eric and the whole Yacht StarShip crew! They made made the planning process a breeze and took care of everything. It was perfect."
I want to learn more about weddings on the Yacht StarShip.