I was not a Do-it-Yourself bride. I tried to make some of the cute creations that I saw online, but failed miserably! However, when I saw these "fake" DIY wedding cake pops, I knew that even I could create these cute little desserts! The no-fail cheat is using donut holes for your cake! These would be super cute for your bridal shower, rehearsal dinner or wedding reception!
Start by melting down your chocolate, (you can use white chocolate and add food coloring to create a cake pop to go with your colors). I like to boil a large pot of water, then put my chocolate in smaller pot on top and use the steam from the large pot of water to melt my chocolate so it doesn't burn.
Next insert your donut holes onto a stick, which you can buy at Michaels in the baking section (less than $5 for 50).
Next swirl the donut around the melted chocolate and add sprinkles!
To store them, insert the stick into styrofoam so the cake pop can dry and keep its polished look!
Thanks to Intimate Weddings for this great how-to tutorial!
Brides – What DIY projects are you doing for your wedding? Comment below.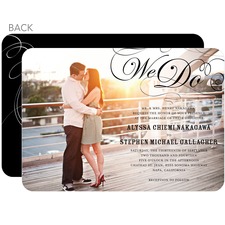 Wedding invitation Sale – Save 20% site wide at Wedding Paper Divas through Tuesday, July 24!